By Chic DiCiccio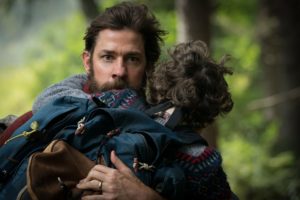 "A Quiet Place" may be one of the best movies about the ups and downs of parenting ever. Of course, the ups include living to see another day and the downs involve a potential ghastly death. This thriller/horror film is a giant metaphor designed to prey on every nerve in the body and it mainly does so with something as simple as silence. It is also a triumph of direction by John Krasinski, who co-stars with his actual wife, Emily Blunt.
It really cannot be stressed just how silent "A Quiet Place" truly is. There are long stretches of this briskly paced, 95-minute thriller without dialogue or music of any kind. The quiet is only interrupted by things like chirping birds, the hum of lights, and the screeches of … well … something that all living humans want to avoid.
"A Quiet Place" focuses on a family of five, the Abbotts. We meet them in 2020 on "Day 89" in an empty small town surrounded by forest. The family (played by Blunt, Krasinski, Millicent Simmonds, Noah Jupe and Cade Woodward) tippy toes (literally) through a pharmacy, scavenging for drugs for their ailing son, Marcus (Jupe). We quickly learn that silence is more than golden after Regan (Simmonds), who is also deaf, narrowly keeps a toy from crashing to the floor after being dropped by her younger brother, Beau (Woodward).
After an extremely tragic and shocking event, we move to "Day 472" and parents Evelyn (Blunt) and Lee (Krasinski) are holed up with their kiddos on a secluded farm. Due to Regan being deaf, the entire family can communicate with sign language and this has probably helped saved their lives to this point. Evelyn and Lee are simultaneously educating their kid's minds while teaching them survivalist skills in a world where sound will literally get you killed.
There are several secrets that haven't been revealed in "A Quiet Place" and they are best learned when seeing it for the first time. Each development raises the stakes for the Abbott family and takes the tension to insanely high levels for a PG-13 film. Marco Beltrami's score is sparsely, yet smartly, used to raise your pulse even higher.
The screenplay, originally written by Bryan Woods and Scott Beck, was rumored to initially only have one line of dialogue in it until Krasinski's once over. He didn't add much more speaking, perhaps one scene in particular that won't leave a dry eye in the theater. For a terrifying, nerve-wracking experience, "A Quiet Place" is loaded with heart and it moves this movie from good to great.
Krasinski's skills behind the camera are evident, but this is also his best on-screen work ever. He could elicit laughs just with a look on "The Office" and he uses the same skills here, albeit conveying completely different emotions.
If Krasinski's take on the screenplay beefed up Blunt's role, it's difficult to blame him. It's become old hat, but once again, Blunt is fantastic. There is one sequence that puts Blunt through the wringer and her reactions only make an already scary situation that much scarier.
The child actors, particularly Simmonds, are also very good. Simmonds, who is actually deaf, has the meatiest role as her typical teenager problems are elevated due to the dystopian world around her.
If all of this seems a bit vague, it's purposeful. "A Quiet Place" not only deserves to be seen, it deserves to be seen without being spoiled. It is the kind of movie that leaves you exhausted at the end, but happy to have suffered through it. The bittersweet ending is so perfect that standing and applauding when the credits hit is forgivable.
Also, the effects? Outstanding. You'll know them when you see them. If you can uncover your eyes, of course.