By Olivia Rathle
CC Young residents and the DFW community joined together for the 22nd annual Spirit is Ageless Celebration of Artists and Writers Awards Program at The Point at CC Young on Friday, October 28. Spirit is Ageless continues to be one of CC Young's most beloved events that celebrates seniors' ageless creativity, ability to grow and eagerness to share his or her special talents.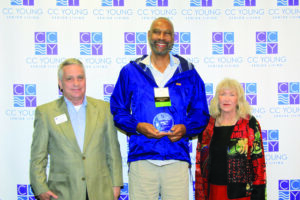 This year's art and writing contest brought in 144 submissions by CC Young residents and community members, with 35 percent of this year's participants being first timers! 
Brian Parman, director of the Point and Pavilion at CC Young; Russell Crews, president and CEO of CC Young; and Jennifer Griffin, vice president of engagement at CC Young, welcomed guests and shared about the history of the competition. As CC Young continues to celebrate its Centennial, it has been an incredibly special year, and the submissions for Spirit is Ageless show the indomitable spirit and creativity that abounds within the senior population on campus and in the community.
This year's featured speaker was Dr. Dawna Hamm Walsh, professor and chair of the department of art in the College of Fine Arts at Dallas Baptist University. Dr. Walsh, a graduate of Dallas Baptist University, returned there to teach art classes following graduate school at the University of North Texas. Additionally, Dr. Walsh successfully grew the art program from 13 art students to 70 talented art majors. 
Walsh spoke about creative expression and shared how creatives see and contribute to our world and community every day. 
She used Best in Show winners, including paintings, writing, drawings and illustrations, to illustrate different viewpoints seen in these pieces. Parman and Griffin then highlighted submissions from 15 categories that showcased the ageless artistry of their talented participants, and first place winners were celebrated in various categories, including paintings, photography and poetry. 
The celebratory afternoon concluded with the firing of confetti canons.