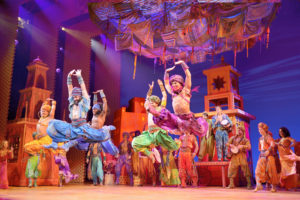 By Shari Goldstein Stern
Everyone knows that Texas does everything bigger. When an already gigantic musical includes three Texans in the cast, it's the biggest, most memorable spectacle on stage, which best describes Dallas Summer Musicals' (DSM) current production of "Disney's Aladdin" (Aladdin) at the Music Hall at Fair Park through June 23. 
The National Touring Company features three Texans who blow the show right out of Fair Park's lagoon. Annie Wallace from Highland Village (near Flower Mound) learned to love dance when her mother took her to "The Nutcracker Suite" at age four and has been studying and dancing since. She is a glorious vision in each of her many costumes. Her dances are mesmerizing. She is one of three attendants to the feisty leading lady Kaenaonalani Kekoa, as Princess Jasmine. 
Wallace is also a standout in the ensemble and is understudy for Jasmine. She is a graduate of Texas State University with a Bachelor of Fine Arts in musical theatre, magna cum laude.
Kekoa might have been typecast in her princess role as a 21st century kind of evolved woman. She's authentic as the strong, no-nonsense, be anything you want to be force. The petite actress wears every exquisite costume with royal-like grace.
According to broadwayacrossamerica.com, the skirt for Jasmine's wedding weighs 12 pounds, and more than 2,000 fabrics and trim were used in the production. The touring company pulled out all the stops to make Agrabar, where the story is set, authentic, with bright yellows, oranges, turquoise, and glitter and gold everywhere. There are more than 300 costumes, a Disney productions record. 
The show features more than 80 special effects, including pyrotechnics, with thunder and lightning rivaling Dallas' Sunday storm. The Cave of Wonder is, in fact, a breathtaking wonder, full of sparkling gold in an architectural marvel. 
Arlington's Clinton Greenspan is brilliant as Aladdin, vulnerable, wide-eyed, warm and engaging. With his handsome looks combined with his dance prowess and a voice you could listen to all day, he fits the role perfectly. Greenspan has toured as Rudolph in "Rudolph the Red-Nosed Reindeer." His local credits include "Romeo and Juliet" and "Dreamgirls" at Dallas Theater Center and "Fiddler on the Roof" at Casa Manana.
Comments like, "We must uphold ancient ways. Go to your room" and "I can't be creative if we're not on the same page" bring the house down. "People pay to watch people song and dance. Who does that?" asks Dallas' Major Attaway as Genie. He chest bumps, fist bumps and has fun working in current material when least expected. 
Not only was the Oak Cliff native a standout in productions like Theatre Three's "Hands on a Hardbody," he also performed the role of Genie in his Broadway debut in 2016, first as understudy, and then full-time in the role. 
This Disney marvel is as much for adults as children, and families can enjoy sharing the magic. Children older than seven will probably enjoy the show, but younger children may find parts disturbing. 
DSM creates magic with "Aladdin" through June 23 at the Music Hall at Fair Park, 909 1st Ave. in Dallas. For tickets and information, visit DallasSummerMusicals.org.