By Sara Newberry
I've mentioned the restaurant Blind Butcher a number of times in this space. It was an innovative and exciting restaurant that, due to menu issues, construction struggles and lack of traffic, closed its doors in June 2018. It didn't take long for the space to be snapped up, and the new tenant, Alamo Club, opened in February of this year. I wanted to hold off visiting until I was sure they had worked the kinks out. (I wasn't super concerned — this spot was opened by an alumnus of Nick Badovinus' Flavor Hook empire.) Chef Kyle Newberry's background is largely Italian- and Asian-related, which has given the dishes the kitchen puts out a mix of heartiness and subtlety that I found appealing.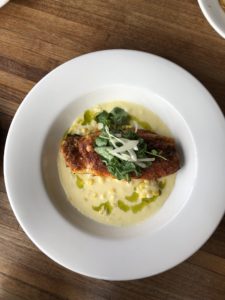 The atmosphere is cut from the same cloth as so many other places that have opened in the past few years: raw wood, lots of iron details, vintage-looking light fixtures. The decor creates a familiar atmosphere, even on a first-time visit. 
On our first visit, a Monday night, we were greeted by our server with a bowl of Nancy's Pink Dip and a pile of the housemade potato chips, and were told that it's how they welcome guests. The Pink Dip is a garlicky, creamy mix that pairs perfectly with their thick, salty chips. (On a second visit, a Friday night this time, we did not get our complimentary Nancy's Dip, and I was sad.) 
We still were irresistibly tempted by the Fried Green Tomatoes, and the results were worth the indulgence. They are beautifully crisp and perfectly seasoned, and the ranch on the side (in theory jalapeno ranch, but it was pink-sriracha?) was a perfect foil to the tangy and sweet tomatoes. 
A Miso Caesar was also spot-on. I especially loved the scatter of crispy kale among the softer romaine, and the croutons were crunchy but light. It was the perfect mix of traditional and innovative — not trying to recreate a dish, but adding a twist that elevates it and sets it apart. 
According to the menu, the striped bass is served with habanero creamed corn, and I was a little nervous that it would be overly spicy. Quite the opposite was true — I kept waiting for the heat to hit me, and it never did. Otherwise it was a lovely dish; the fish was gorgeous, and the greens added a hit of astringency that balanced the richness of the other elements. 
A plate of pappardelle was sauced with a spicy sausage ragu; the pasta was perfectly al dente, but the sauce was a little too stark and could have used a splash of pasta water to round it out. 
Sides of Brussels slaw and mashed potatoes were both excellent; the slaw was just sweet enough, and the shaved sprouts were treated well — they were tender and bright green. 
The only dish I struggled with at Alamo Club was the steak tartare; it's a favorite dish of mine and I order it anytime I see it on a menu. This one was, to put it plainly, not good. The meat was roughly chopped, not minced, and the dish was so salty it was inedible. A topping of chopped pickles contributed to the issue, rather than balancing the rich meat, as they should have. (Fries and aioli alongside were perfect.) 
Service is mostly friendly, if a little inconsistent as far as attentiveness. And when I mentioned to a server that the tartare was overly salty, her response was that she doesn't eat steak tartare, so she doesn't know how it should taste. Well, honestly, I don't care, because I do eat it, and I do know how it should taste. And that's not it. (After some mildly tense discussion, it was removed from the bill.)
I wondered if the new tenant in the space at 1919 Greenville Avenue would be worthy, after losing such an excellent spot; I think in general they are. They've just added brunch and it's definitely on my list for the future. The menu and the experience are both easy and mostly successful. I'm looking forward to exploring Alamo Club further. 
Alamo Club
1919 Greenville Ave.
469-399-7600
alamoclubdallas.com
Open Monday-Friday 
5 p.m. to 2 a.m.
Open Saturday and Sunday 11 a.m to 4 p.m. (brunch menu); 5 p.m. to 2 a.m.