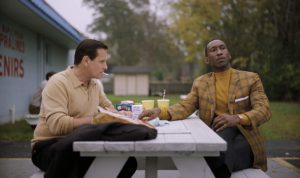 By Chic DiCiccio
The 2019 Academy Awards are this Sunday night so that means it's time for the obligatory Oscar predictions, complete with what movies, actors and actresses were ripped off. 
Quick preview: there will be many mentions of "Hereditary" in this column. The fact that anyone could prefer anything about the train wreck that is "Vice" over that psychological horror masterpiece is befuddling. 
So why not start there?
"Green Book" is going to win and enter the rarified air of Worst Best Picture Winners ever. It's not a terrible movie, but it's nowhere near the excellence of some of its competitors. "Roma" may be slightly ignored due to its Netflix release, but it really should be ignored because it's an absolute bore. 
The winner here really should be a pick from "A Star Is Born," "BlacKkKlansman," or "The Favourite." 
Speaking of "The Favourite," there is a greater than good chance that its star, Olivia Colman, will lose out on a very deserved Best Actress trophy to Glenn Close for "The Wife." 
Close, a fantastic actress, would be winning based on her entire career as a whole as opposed to the performances in these films. Of course, this is all irrelevant as Toni Collette's show-stopping work in "Hereditary" should be the winner and she wasn't even nominated. 
Even in an average movie, it's tough to argue against Mahershala Ali as Best Supporting Actor in "Green Book." Between it and "True Detective," Ali may be the best actor alive right now. An argument can be made for Richard E. Grant or Sam Elliott, but if Ali isn't in "Green Book" then that movie is fully unbearable. 
If Ali isn't a guarantee, Regina King winning Best Supporting Actress for "If Beale Street Could Talk" is an absolute certainty. It's unfortunate that the brilliance of Rachel Weisz and Emma Stone won't be rewarded for "The Favourite," but they just picked the wrong year and they may actually split votes from fans of that movie. 
There are some actors that apparently need to change how people look at acting. Ethan Hawke is one of those guys. His performance in "First Reformed" is the finest of his career, yet he and Colette are going to be on the sidelines this weekend. 
Christian Bale is taking his place in the Best Actor category for accomplishing the rare acting feat of gaining weight, which anyone can do with a knife, fork and pancakes. 
Rami Malek deserves the nomination and if he wins, it's not the disaster that some critics claim. Bradley Cooper could have won an Oscar three previous times and if this is his turn, it's well deserved. 
There are a handful of movies and acting that were overlooked in the last year. Lynne Ramsay's masterpiece, "You Were Never Really Here," was absolutely ignored for several categories, particularly Best Director, and Joaquin Phoenix (another actor who needs to move mountains to win) as Best Actor. It also feels like voters threw "Black Panther" a bone in the Best Picture category, but overlooked the main reason that movie worked: Michael B. Jordan's villain. 
No matter what, this year's Oscars show should be fairly interesting. No host and by not airing several categories, they hope to speed the show along. Spoiler alert: it's still going to be pretty boring.