By Beth Leermakers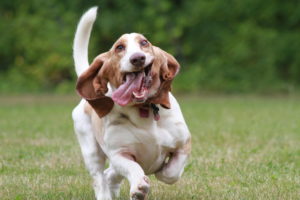 One of the rescue vets who treats my foster dogs has no bedside manner. He gives short, cryptic answers to my medical questions. Beth: "Since my foster dog is heartworm negative, what else could be causing him to be so thin? Could he have worms?" Vet: "Maybe. Or it could be something else." Beth: "My foster dog's ear bleeds when he shakes his head a lot. Is that a problem?" Vet: "It could be if it continues." He doesn't provide any explanations or offer possible solutions. This vet takes good care of the dogs, and he offers a rescue discount, but I don't take my personal dogs to that clinic. I prefer a vet who's warm and friendly and spends time answering my questions about my dogs' medical needs. My favorite vet sits down on the floor with Sparky, petting him and loving on him before examining him. No scary, cold metal exam tables for my boy, who is putty in Dr. J's hands.
If you aren't satisfied with your current veterinarian, it may be time for a switch. Pet parents may be dissatisfied with their vet for several reasons: lack of communication (as in my case), poor customer service, high costs, inadequate care or disagreements about vaccination schedules or treatment plans. If you don't have a strong personal connection to your vet, you may be ready for a new one. You and your pet want to feel comfortable.
In some cases you may be able to share your concerns with your vet and ask for what you need.
I asked my favorite vet (who's at an expensive clinic) for a prescription for heartworm preventative so I can order online to save money. I explained that I care for several temporary foster dogs, often footing their vet bills myself, and I need to save money where I can.
If your pet has a serious illness and isn't improving with her current care, you may want to seek a second opinion and/or consult a specialist. When I told my vet that my 60-pound, young dog was running into things (and me!) and appeared to have vision problems, my vet initially waved off my concerns. When I persisted, assuring him that I knew my dog, my vet referred us to an ophthalmologist who diagnosed my one-year-old dog with cataracts. Trust your instincts; you know your pet's behavior better than anyone else.
Finding a New Vet — Assess what You Want
After you make the decision to part ways with your vet, start by identifying what you're looking for in a veterinarian and what didn't work with your old one.
Here's a checklist of considerations when choosing a vet:
• Is the vet clinic or hospital accredited by the American Animal Hospital Association (AAHA)? AAHA-accredited facilities meet high standards for quality care and cleanliness of the facilities.
• Are the clinic's vet technicians accredited?
• How many vets are on staff?
• What's the best way to communicate with the vet — via phone, text or email?
• Do they give written discharge instructions after the visit? My dog's ophthalmologist made chart notes on a computer in the exam room, handing me written instructions and prescriptions before I left the exam room so I'd have time to ask questions. I received better care and customer service at the animal ophthalmology clinic than I do at my own eye doctor. I asked (only half-jokingly) if I could come see her for my eye exams.
• Is the clinic located nearby?
• Does the clinic have evening or weekend hours?
• Does it offer emergency hours or an emergency number to call? I use a different vet, open 24/7/365 without emergency vet fees, for my dogs' after-hours, Sunday and holiday emergencies. This clinic sends their treatment records to my primary vet, so the care is coordinated.
• If my pet has to be hospitalized at the clinic overnight, who will care for him?
• Does the clinic accept veterinary insurance or offer payment plan options?
• Are there separate waiting rooms or areas for dogs and cats?
• Is there a behaviorist on staff?
• Is anyone on the staff fear-free certified? (The fear-free certification program trains vets to prevent and alleviate fear, anxiety, and stress in pets.)
Ask other pet parents what vet they use. NextDoor is a good source for vet recommendations. If your pet has a particular health condition (e.g. diabetes or Cushings), mention that in your request. Online reviews may be helpful; just keep in mind that your needs may differ from the reviewers'.
    Tour the Clinic
Before scheduling your first appointment, visit the clinic and take a tour. The receptionist should smile, welcome you warmly and be happy to show you around. Here's what to look for:
• The clinic should smell clean. A dirty facility is a red flag.
• Outdated or broken equipment is another red flag
• Pay attention to how the vets and techs handle the animals, particularly the scared ones. One of my vets is afraid of pitbulls, and his fear negatively impacts the quality of the exam. I request another vet when I take Sparky (a pitbull) for his annual checkup and vaccinations.
• If there's a kennel area, the kennels should look comfortable and be lined with clean blankets or towels
• Consider the size of the practice. Staff at a smaller clinic may give you more personalized attention
After you choose a new vet, have your pet's medical records (including vaccinations, chart notes and lab results) transferred to the new clinic prior to your first appointment. Discuss your expectations with your new vet at your first visit. Doing so will help your vet better meet your needs.
Fortunately, leaving your old vet probably won't be as awkward as leaving your old hair-dresser. You don't see your vet as often, so your absence won't be as noticeable. You and your pets deserve to receive exceptional care and customer service.