Artist travels to Corleone to help city heal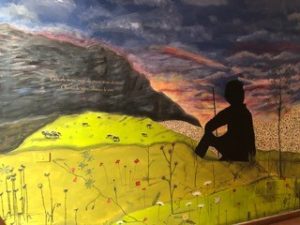 By Shelia Huffman
Little Forest Hills resident Andrea Davis promotes healing and well-being through her Dallas-based art therapy practice. 
Art therapy is a form of expressive therapy that uses the creative process of making art to improve a person's physical, mental and emotional well-being. It allows clients to express themselves non-verbally, making it a useful model of treatment for diverse populations including children, adults, families and groups. 
Art therapy is considered an effective treatment for life changing concerns such as relationship challenges, post-traumatic stress, loss and grief as well as anxiety, depression and low self-esteem.
"It is beneficial for opposite ends of the spectrum, treating victims of abuse and bullying as well as behavioral issues of the abusers and the bullies," Davis said.
Davis has a master's degree in the study from both the University of Dallas and the University of West Georgia just outside of Atlanta.
Prompted by her professional association with Dallas psychiatrist David Atkinson, Davis recently had the opportunity to use her therapy skills in another area of healing and restoring. 
Since her great grandparents, Josephine Danna and John Lanza, had come to America from Sicily during an era when food was scarce, farmers were struggling, and the Mafia was terrorizing, Davis seemed a perfect choice to participate in an art project in Sicily supported by Atkinson. 
Davis' ancestors had made a successful and profitable life in Dallas. Many native Dallasites may remember the family owned Vick's restaurant with locations Downtown and in East Dallas.  However, many Sicilians were not as fortunate, and some are still dealing with the Mafia fallout in Sicily today. 
Corleone, on the island of Sicily, was once known as the "town of 100 churches," but later became known as the Mafia capital of the world. 
For generations, the people of Corleone have been unable to shed the unsavory Mafia-related reputation. But today, locals are standing up and fighting back. The Anti-Mafia Museum was established in 2000 and is an example of the effort to tell the real story of the terrorist organization of racketeering and crime and dismantle the sometimes romanticizing of Mafia with fictitious narratives such as "The Godfather." 
Davis was recently invited to paint a mural on the wall of the museum. She chose a young shepherd boy who was killed by the Mafia in the 1930s because he had innocently witnessed a crime in the street. 
Davis was so moved by her experience in Corleone that she plans to return next year to continue her support of the museum and further trace her family history. 
The art therapy office is located at 6060 N. Central Expressway, Suite 500. For inquiries and appointments, Davis can be reached at 214-800-3494.