By Max Black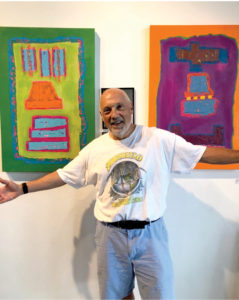 Local artist Marc Dominus made headlines when BTS member Kim Taehyung, better known as V, walked into Kettle Art and bought two of Dominus's paintings on a rainy Friday night in September. BTS were in town for their Love Yourself tour, performing a sold out show at The Fort Worth Convention Center Sept. 15 and 16. I had the pleasure to sit down with Marc and talk about his art and experience.
What made you decide to start painting?
"I've been painting mostly intermittent since 1992. I don't know why I started, I just sort of enjoyed it. As a painter, at least for me, your art is an expression of your feelings and it's an important form of communication. I'm barely an artist, I'm just in the early stages of learning, but if you're honest about how you express yourself through your art, people will find it appealing."
How do you start a painting and what is your creative process?
"My work is with the underlying premise that I'm expressing an emotion and a feeling I'm experiencing in the moment.
A painting is just a record of the process. There's practical limitations, the size of the canvas, the paint and brushes you use … there are a lot of variables that go into executing the painting. My work is generally abstract; the process really involves a color."
Why Abstract?
"Because I don't know how to draw, and I don't know how to paint. I really just play with the colors on the canvas.
If I have paint left over, that's the color I'll start with. I just let everything play off itself; it's very much a spontaneous process."
You're committed to painting every day. Why did you make that challenge for yourself?
"My [former] career was something very very different, and I think that the commitment was because I've played around with painting for a number of years. I always felt like if I would give myself the opportunity that I would discover whether or not I had any real capacity to accomplish art, whatever that may be. It's more about the satisfaction of being able to express yourself."
Your art is very interesting and breathtaking. Do you find it hard to work with such bright colors?
"No."
Why do you think that is?
"The paintings are about color for me. I just get a lot of joy out of it. I enjoy playing with the color."
What does your art aim to show or say?
"I would've already given you the answer if you had asked me 10 days ago. If I sell a painting to someone, I immediately feel like they're family. Because when I'm painting I'm expressing my emotions. What has happened is through my art, which is merely a representation of my feelings, I want to build a family through the art. The art attracts the owner. No one would buy a painting from me if I didn't make a connection with them"
Tell me about the night [when the Korean pop star visited your art show]. What were your emotions when V bought your paintings?
"There's some misleading information. I think just V was the only BTS member there with some guards and the camera crew. I didn't know who I was talking to. We spent 30 minutes together. He was very polite, warm, unpretentious and just some guy that had five security [guards] and a camera crew. I feel like he and I had a real connection.
"A thousand people could look at a piece of art, but I had no idea I was going to find a home for these paintings. When people connect with art, if it's my art, they're connecting with me. I had that experience with him. He didn't look at anyone else's art, I tried to get him to view the other artists in the show's work. One of the best artists in my opinion was a Korean woman.
"So, this Korean kid walks in, he's here to see the Korean art, and I made that connection. He didn't want to see any of the art except mine. He kept asking if I had more. I feel that. I tell everyone, and I told him, 'You know we're family now.' My feelings were about someone I didn't know buying my work. It was a feeling of love. I didn't feel excited or overly happy. I just felt embraced."
The two paintings V purchased are titled Boxed In and Boxed In Too. How did you come up with those names or the names of your paintings?
"If it were up to me I wouldn't name them. I didn't name Boxed In at first; there were things I wasn't happy with. The next one was inspired by it. The borders kind of felt like boxed in, and I was under a time crunch. As far as how do I name them generally, I change the names a lot."
BTS' fanbase ARMY have taken an interest in your paintings. What is it like to suddenly have so many eyes on your work?
There's no eyes on me. I'm an unknown painter. This social media stuff is all new to me. ARMY is a community, and I feel a certain responsibility and honor at this point because of how this happened. It's not like some representative for V came in. He and I hugged [personally], held hands, looked in each other's eyes. He would do some Google translate, I held his phone and typed in stuff. We interacted.
"I'm glad I didn't know who he was. I'm sure that would have affected how I behaved.
"Seeing how people have reacted, there's plenty, 'I like your painting' but there's also, 'I wish you good health' and 'thank you for taking care of V,' so it's not so much about admiration of the paintings. Its really about an honor for being embraced by this community.
"I think it's a very important story. I'm part of something. This is really about a message of love. It was just partially enabled in this case by art."
If you could ask V something right now, what would it be?
"I think I would ask how he found me and why he bought the art, but also 'When you look at a piece of art, how do you experience it?' I also want to know what his vision is around where BTS is headed in the context of being a generational leader."