By Rebecca Aguilar
Rarely do you see an art show highlighting work exclusively by Latinas, but walk into the Latino Cultural Center, and you're surrounded by large paintings, pottery, mixed media and photography. The art being showcased for the next several weeks is part of "Diez Latinas: One Common Thread."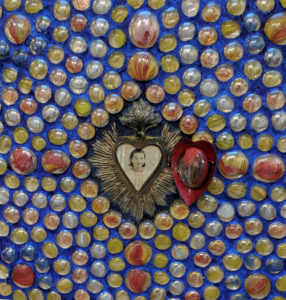 Opening night on Friday drew more than 300 people, including Gloria Prieto, who went specifically to see the photography of Leticia Alaniz. Her work is a series of black and white photographs. Jones admires the way Alaniz uses strong contrasts between light and dark. 
Each artist has her own unique style and technique. Each one uses art to send a message. Alaniz's series of photographs is of women and children. 
One young woman is holding a deer skull, another is hanging clothes to dry, and another is praying. Some are profiles of women looking off into the distance.
Prieto examines each photograph closely. "It makes me wonder what the people in the photos are feeling. Some look very serious, many look like they are deep thought."  
Ivonne Acero's mix-media collages are a combination of fabric, paper clothing patterns, sewing stitches and writings. On a back wall, her mixed media, "Identical, Different" is 72 small cast dress forms of different colors. It is the largest piece of art in the show.   
Maria Teresa Pedroche's "Flor y Curvas/ Flowers and Curves," is a stunning vibrant colored oil painting, only one of several art pieces she is sharing with the public. Her mixed media piece (pictured above) called "Luz, mi madre/Light, my mother" is a mosaic. A photo of her mother when she was young sits in the middle of milagro heart, a piece of jewelry made of metal. It's surrounded by pieces of colored glass that reflects the light in a very spiritual way.
"It's personal. A lot of those works are about my mother. Everybody is going to feel different about it, but I hope they will want to find out the history behind my art." 
Pedroche, who curated art shows for the Dallas Museum of Art in her former job, says "Diez Latinas" is unique because Latina artists continue to struggle to get their work recognized and showcased. "I don't know why. That's a question to ask the directors and the heads of the big museums. When I was at the DMA I tried to bring in Latino artists, but often they were not accepted."
Gloria Prieto got to meet the photographer she came to see. The Lakewood Elementary School teacher left the exhibition inspired by the art by Latinas. "You never see shows like this. It was excellent."
"Diez Latinas: One Common Thread" will run through Aug. 24. It is open and free to the public. A panel discussion with Viola Delgado, the curator, and the artists is on Aug. 10 at 2 p.m. The center is located at 2600 Live Oak St. in Dallas.