FESTIVAL OF JOY
By Taylor Mayad
Ushering in the spring season with a colorful celebration of Indian culture and spirituality, the fourth-annual Festival of Joy will be celebrated at Klyde Warren Park (2012 Woodall Rodgers Fwy., Dallas) on Saturday, April 15, from 11 a.m.-6 p.m. The free festival — presented by Kalachandji's, ESSM Innovative Technologies and American Airlines — brings together thousands of families, young adults and dignitaries for a fun-filled day of bright colors, beautiful flowers, traditional street food and a free vegetarian feast, along with riveting music, dance and interactive holistic living and cultural activities.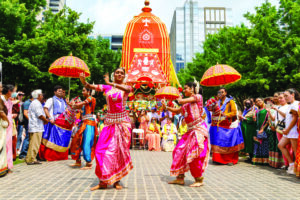 "Dallas is a diverse city of the future, and the Festival of Joy is one of the best examples of varied cultures coming together to spread harmony and happiness. I am excited and looking forward to being back at Klyde Warren Park to fest with fellow Dallasites," said Dallas City Council Member Paul Ridley, who represents Klyde Warren Park and the Dallas Arts District.
The Festival of Joy — also known as Ratha Yatra or the Festival of Chariots — has its roots in ancient India and the bhakti tradition. It is celebrated in major city centers around the world, including New York City's Fifth Avenue and London's Piccadilly Circus. It has been observed annually for more than 3,000 years in the holy city of Jagannatha Puri in Orissa, India, making it the oldest street festival in the world.
"What better way to celebrate Dallas Arts Month than the unique Festival of Joy. We are a stronger community when we experience the Festival of Joy with its roots in ancient India and the bhakti tradition," said Lily Cabatu Weiss, executive director of the Dallas Arts District. "The colors, dances, culinary experiences and family-friendly cultural activities bring a dynamic, diverse and colorful energy to the Dallas Arts District."
The Dallas festival begins at 11 a.m. with a welcome ceremony at the park, followed by a parade at noon through the Dallas Arts District, returning to the park at 1:30 p.m. Hundreds of festivalgoers will pull a colorful chariot carrying the deities of Jagannatha, Balarama and Subhadra along Flora Street. Hundreds more will dance while singing sacred mantras and playing traditional musical instruments. Devotees believe that if they get to pull the ropes of the giant chariot carrying Lord Krishna, also known as Jagannatha or Lord of the Universe, they can obtain eternal service to the Lord in the spiritual world. 
After the procession ends at the park, guests can enjoy a free vegetarian feast and visit cultural and educational exhibits of holistic living and the spiritual heart of India. The main stage will feature kirtan (musical mantra meditation) and bharat-natyam (classical Indian dance). This year's performers will include acclaimed Manipuri dancer Rinku Das and Odissi dancer Krishnaveni Putrevu. Throughout the day, Kalachandji's will operate several stalls selling regional Indian street food favorites. Other stalls will present Ayurveda, yoga, traditional crafts, vegetarian cooking demos, ask-a-monk, tie-a-sari, face painting and more. 
"We look forward to a bigger and bolder Festival of Joy, with expanded programming and interactive activities for visitors of all ages to enjoy," said Nityananda Dasa, president of the Texas Krishnas. "The energy and joy felt by the thousands who attend reminds us that there is hope in the world, and that the consciousness within can spread to inspire others. We hope people of all backgrounds will come and experience this special celebration of spiritual culture."
Learn more at FestivalofJoyDallas.com.