By Chic DiCiccio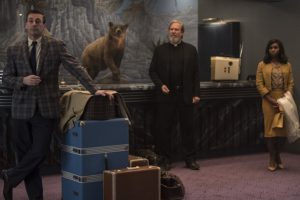 On September 23, 1994, "Pulp Fiction" was released and changed the way that movies could be made. It became okay to have sprawling stories with multiple characters while mashing genres together. Snappy, pop culture-laden dialogue became the new hotness and it spawned countless copycats. 
Director/writer Drew Goddard's second film, "Bad Times at the El Royale," owes its very existence to Quentin Tarantino's now 24-year-old masterpiece. 
Every character is loaded with quirks, and the majority of the violence is quite jarring, but, at a slightly bloated 140 minutes, Goddard may have bitten off more than he can chew. 
Strangely enough, the opening scene may be the best of the entire movie and there isn't so much as one word uttered. An unknown man (played by Nick Offerman) silently hides a leather bag under the floorboards of a hotel room and after his work is done, things go badly. It's puzzling and the nature of Seamus McGarvey's cinematography, which is at award worthy levels, makes it almost unbearably creepy. 
We then learn it is 1969 and that hotel is the El Royale, a Reno hotel with the very unique feature of being sliced in half by the California-Nevada border. That quirk alone should have Tarantino junkies salivating … even though it doesn't factor one iota into the story. 
Goddard spends a massive chunk of the movie moving pieces around the board as people start showing up to the hotel. Singer Darlene (Cynthia Erivo) and Father Daniel Flynn (Jeff Bridges) get an El Royale history lesson from verbose southerner Seymour Sullivan (Jon Hamm), a traveling vacuum salesman, before getting checked in to their rooms by a young, overwhelmed concierge, Miles (Lewis Pullman, looking and sounding exactly like his father, Bill). Once Emily Summerspring (Dakota Johnson) walks in the lobby, it becomes apparent that nobody in the hotel is on the up and up.
"Bad Times" then becomes an intoxicating noir with as much in common with Agatha Christie as Tarantino. 
Time frames shift seamlessly, and the same 15 minutes of action are shown from each character's perspective. A brilliant sequence with Jon Hamm is no doubt stealthily edited, but it appears to be one shot as the camera moves throughout the hotel, peeking in on all the guests in a voyeuristic way. 
The story starts to spiral downwards when Chris Hemsworth's Billy Lee shows up at the hotel. It would be poor form to spoil exactly what Billy Lee is, but it quickly goes from intriguing and odd to rushed and forced. It's not anything that Hemsworth does poorly as much as it seems like Goddard needed resolution and used his character to get it. 
Therein lies the biggest problem with "Bad Times at the El Royale." There isn't a villain. There are just strange characters stuck in a mysterious place. It's all premise and mood without a real denouement other than chaos. The setup is a blast, but the ending is unsatisfying as it runs out of steam. 
Goddard has some great stuff in here, but there's a fine line between ambition and indulgence. Thankfully, "Bad Times at the El Royale" is so well directed, acted and shot that it's easy to overlook the warts and just enjoy the trippy ride.