By Shari Goldstein Stern
It's time for Uptown Players' (UP) annual hit, "Broadway our Way," (BOW). BOW never disappoints, but it does sell out the Kalita Humphreys Theatre.
B.J. Cleveland, one of Dallas' hardest working actor, writer, director and educators, has written and directed the BOW productions for nine years. A comedic character himself, he has appeared in the show almost every year, often in a guest spot or as master of ceremonies.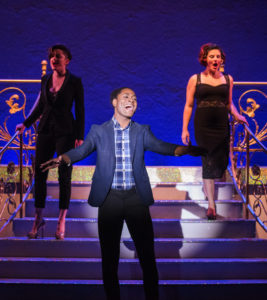 The entertaining, often over-the-top show was conceived by UP's producers, Craig Lynch and Jeff Rane at the end of UP's first season. Initially, the ensemble included several men of the UP cast with Dallas diva Denise Lee as the host. Lee will make a special appearance this year, along with Patty Breckenridge, co-hosting the 2020 edition.
Breckenridge is an award-winning actress who has been seen in theaters across the Dallas area, including WaterTower Theatre, Dallas Theater Center and UP. She has performed with Turtle Creek Chorale and is most recognized for her award-winning role as Diana in the 2011 production of "Next to Normal."
Denise Lee is one of the Dallas area's most beloved talents. In addition to many award-winning performances on stages around North Texas, she's endeared audiences through both her talent and natural, personal charm in nightclub, cabaret and television appearances for more than 20 years. She is a local hero with many complementary performances to her credit.
Uptown Players' cast members in this year's show include Linda Leonard, always a theater-goers' favorite. It was she who was able to reprise a role she had performed, with raw talent, in UP's award-winning "Kiss of the Spider Woman" 10 years later. Mikey Abrams, Randy Pearlman, Kelly McCain, Amy Stevenson, Laura Lites and Walter Lee are just a few more in the cast who never fail to bring laughs and tears.
Every year the UP producers, production team, alumni, cast and Cleveland collaborate on the show, choosing which Broadway numbers they will perform, steering away from songs they used in recent years. They work hard to keep every show fresh. Cleveland stressed, "It's a very collaborative effort."
Musical arranger Adam Wright creates new orchestrations, while music direction is by Kevin Gunter and Vonda K. Bowling. Trevor Wright is choreographer. Every act has an UP twist. 
BOW is UP's annual fundraiser. There is a silent raffle in which patrons can participate before curtain, at intermission and after the final bow. Many local businesses contribute exquisite, high-end items to every show, including spectacular jewelry. 
"Broadway our Way" performances are Thursday, Friday, and Saturday evenings, Jan. 16, 17 and 18 at 8 p.m. and a matinee at 2 p.m. on Sunday, Jan. 19 at the Kalita Humphreys Theatre, 3636 Turtle Creek Blvd. in Dallas. To order tickets, visit uptownplayers.org or call 214-219-2718.