By Shari Goldstein Stern
Ladies and Gentlemen, Ms. Buckley is back in town. That's North Texas' own, home-grown, award-winning actress, Betty Buckley, and she's looking swell in "Hello, Dolly!" at Dallas Summer Musicals (DSM) through July 28.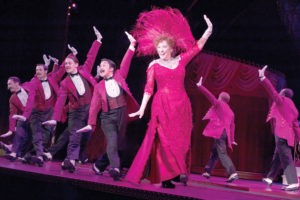 The endearing actress earned a loud, enthusiastic welcome by DSM's engrossed, opening night audience. She was met with a swell of applause, the accompanying bellows for patrons' darling of theater, born in Big Spring and raised in Fort Worth. You could feel the mutual warmth in the theater, and her great big kiss back.
Based on Thornton Wilder's play, "The Matchmaker," this production of "Hello, Dolly!" pays tribute to the show's original choreography by the illustrious Gower Champion. Jerry Herman's music and lyrics are as fresh today as they were in 1964 when it premiered on Broadway with Carol Channing in the role. Others playing Dolly over the years have included Pearl Bailey, Barbra Striesand in the film and, of course, Bette Midler. Buckley is Dolly Gallagher Levi, who is hired as matchmaker for a "half-a-millionaire," Horace Vandergelder, but whom she fully intends to snatch for herself.
Horace, who starts out as a salty ol' guy, ends up a charmer once Dolly wears him down. As the gentleman in the role, Lewis Stadlen is reminiscent of Bill Macy in the old "Maude" TV series. He was also salty but was putty in the hands of Bea Arthur.
Buckley has had a brilliant career in musical theater. She was featured on Broadway in "Pippin," and in "1776" as Martha Washington. She starred in her award-winning "Triumph of Love," "Sunset Boulevard," the stage version of "Carrie," "The Mystery of Edwin Drood," and Andrew Lloyd Webber's "Song and Dance."
From 1982-2000, Buckley's rendition of Grizabella's haunting, challenging song, "Memory" brought the house down nightly in Lloyd Webber's "Cats," for which the revered actress took home the Best Actress Tony award.
The Texan is a 2012 Theatre Hall of Fame inductee and the 2017 recipient of the Julie Harris Awards from The Actors' Fund for Artistic Achievement. 
In the production, Warren Carlyle and Sara Edwards do great justice to Champion's choreography, with the show-stopping "Waiters' Gallop" being the high-energy spectacle that would make Champion proud. That number, leading into the legendary, "Hello, Dolly" builds excitement to a crescendo that welcomes Dolly down the staircase in her iconic, exquisite red gown and red-feathered hat.
All of four-time Tony Award-winning designer Santo Loquasto's 1885 costumes are breathtaking. With a confection of exquisite tangerine, lime, grape and lemon sherbet, ruffled dresses to their neatly tucked-in bustles, the ladies are dressed to the nines. Even the men's costumes are something to behold. The dramatic difference in finale costumes is striking. Now the women are a mélange of pastel pinks, lilacs, baby blues and creamy yellows whirling across the stage like cotton candy. 
Loquasto is also the scenic designer of the visually exciting show. Inside the Horace Vandergelder's store is realistic and interesting enough that it makes you want to stop and see if you need anything.
In addition to the iconic "Hello, Dolly" and "The Waiters' Gallop," "It takes a Woman" and "Sunday Clothes" are two of the show's best production numbers, showing off the talented cast and ensemble. 
Buckley, who just turned 72 this month, appears every bit as lithe and energetic as the hoofers playing behind her. It would be hard to describe her today without a "cute," "precious," or "adorable." Just look at that face!
Another patron on opening night, Ft. Worth's Judy Wisch observed, "Betty doesn't sing music. She interprets it." 
"I've known Betty [Buckley] for years. We saw her in 'Dolly' in Chicago, and I knew that if anyone could replace Channing, it would be Betty as the quintessential character," said DSM's former President and Managing Director Michael Jenkins. "Betty doesn't try to emulate Channing in the role, but instead makes it her own." 
The national tour launched in September 2018 in Utica, NY, and its final stop will be in May 2020 in Schenectady, NY. Buckley will leave the tour in September, and the role will be filled by Carolee Carmello when the show plays at the Bass Performance Hall in Fort Worth in January. 
Today the Diva describes life on a horse ranch west of Fort Worth, and it only takes a moment to realize it sounds like absolute heaven!
"Before the Parade Passes By," theatergoers will want to make "Hello, Dolly" a must-do family outing at Dallas Summer Musicals in the Music Hall at Fair Park. For tickets, call 800-982-2787 or visit DallasSummerMusicals.org. Tickets can also be purchased in person at the Music Hall at Fair Park.