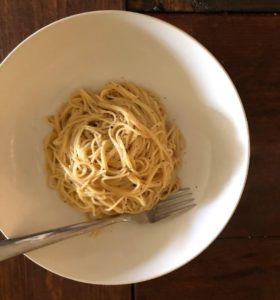 8 ounces dried angel hair pasta
4 tablespoons butter
2 teaspoons freshly ground black pepper
1 1/2 cups grated fresh Parmesan cheese
Salt
Bring 3 quarts salted water to a boil and boil pasta just until al dente. 
Meanwhile, in a skillet over medium heat, melt butter with black pepper. 
Drain pasta, reserving 1/2 cup pasta water, and add the pasta and the water to the skillet. 
Stir to coat the pasta with the butter, then turn off the heat. Stir in cheese, tossing the pasta to melt the cheese and distribute it evenly. 
Season with salt and additional pepper, if desired. Makes 4 side servings or 2 main dish servings.