By Angela Ricketts
White Rock North School (WRNS) kicked off the holiday season with the WRNS Parent Community collecting and donating more than 550 canned goods to the Feed Lake Highlands, "a faith-based program that feeds the body, mind and soul of Lake Highlands residents who live on fixed, limited or low incomes."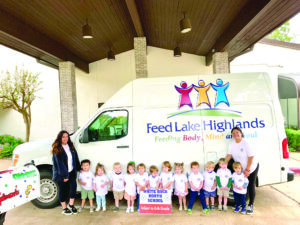 White Rock North School has focused on giving back to the community since its founding in 1964 when two former schoolteachers opened the original preschool in a converted house on White Rock Trail. Continuously throughout the last 58 years, the Adams family participates in Lake Highlands area activities and community programs, with Feed Lake Highlands being one of the school's most beloved organizations. 
The work this corporation does strengthens the physical, educational and spiritual needs of all those they touch. The school's community is honored to partner with such an incredible organization.
The two-year-olds in Mrs. Maldonado-Gamez and Ms. Samaniego's preschool class donated the most food overall and won a pizza party and bragging rights. 
The teachers want to thank all the parents who came together to make this food drive a success. White Rock North looks forward to more opportunities to support our community and set excellent examples for students.