By Roseanne Lewis
Dallas CASA (Court Appointed Special Advocates) has been named one of eight beneficiaries of the 2021 Crystal Charity Ball.
Dallas CASA recruits, trains and supervises community volunteers to serve as advocates for children living in the protective care of the state due to abuse or neglect. Crystal Charity Ball's funding will allow Dallas CASA to serve teens ages 16 and 17 who are aging out of foster care. These youngsters are some of the most vulnerable in society as they approach an adulthood that can expose them to an array of serious risks and unimaginable challenges, with life-long implications.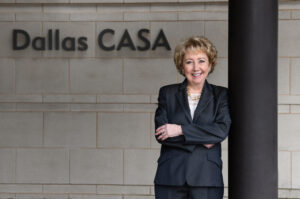 Crystal Charity Ball has committed to $396,000 in funding so that Dallas CASA can better and more fully support them. 
"With the help of Crystal Charity Ball, an incredible partner to Dallas nonprofits for 70 years, Dallas teens living in foster care will know they are seen, heard and valued," said Kathleen M. LaValle, Dallas CASA president and CEO. "We want children on the brink of legal adulthood to have the best possible chance to become successful adults."
The funding will allow Dallas CASA to serve 198 teenagers with community volunteers supervised by Dallas CASA's professional staff at a program cost of about $2,000 per child.
A teen aging out of foster care faces many challenges on their paths to adulthood. Statistics show that 20 percent become instantly homeless upon aging out of care. More than 50 percent report being food insecure. More than a quarter lack a high school diploma, and half are unemployed. Less than three percent go to college, and more than a third become parents themselves by age 21. The vast majority of people who are victims of sex trafficking spent time in foster care.
"Life in foster care can be hard, but it's especially hard on our teenagers," said Corey Anthony, Dallas CASA's board chair and a volunteer advocate who together with his wife Priscilla has served 13 children, including three teens. "We are grateful that so many volunteers have a heart for serving this age group. A 16 or 17-year-old in foster care knows his or her life is different than peers, and many are desperate to break free of the system. Our focus, to be sure they are ready for what lies ahead."
In Dallas, youth who have aged out of care spent an average of three and a half years in foster care, far longer than infants and children. Older teens had, on average, six placement changes, compared with about two for younger children. 
In addition, older teens are less likely to be adopted, meaning advocacy must focus on a safe transition to adulthood. Many will run away from foster home placements again and again or be placed in residential treatment centers that expose teens to overmedication or mistreatment.
A Dallas CASA volunteer is assigned to one case at a time, allowing them the time to build relationships and trust and to focus on the best interests of each individual child. One youth a volunteer was serving ran away from her placement in Houston. When law enforcement there could not locate the child, her Dallas CASA volunteer drove to Houston and posted fliers looking for her. The girl was safely recovered when she saw the posters and knew someone cared. 
In 2020, Dallas CASA recruited a record-breaking 472 new community volunteers to serve children who experienced abuse or neglect. These volunteers visit the children they are assigned to, advocate for the child's medical, psychological and educational needs, attend all court hearings, evaluate placements and make recommendations to judges. But for volunteers assigned to teens, the role can include so much more. Volunteers serve as role models as they assist teens in obtaining driver's licenses, accessing resources, visiting colleges, finding employment and so much more.