By Anna Davis
An entertaining evening awaits on Saturday, March 23 at 8 p.m., as Artistic Director and Conductor Richard McKay leads the Dallas Chamber Symphony with Copland's original Pulitzer Prize-winning "Appalachian Spring Suite," commissioned by choreographer and dancer Martha Graham in 1944. 
The work's Shaker influence and wide-open harmonies have made it a beloved and worthy staple of the American chamber repertoire. Back by popular demand, the DCS will reprise Harold Lloyd's delightful romantic comedy, "Bumping into Broadway," screened to the orchestra's live performance of an original score it commissioned from Rolfe Kent, whose film credits include "Sideways" and "Up In the Air." 
The exciting evening will also include a world premiere written by Kim Osberg (pictured). An emerging Dallas composer and alum of Indiana University, she recently premiered an original opera picked up by New Voices Opera.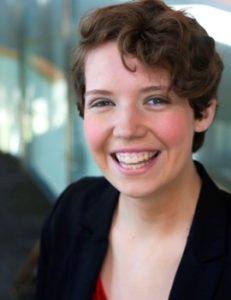 Dallas Chamber Symphony's "Appalachian Spring Suite" concert is at Moody Performance Hall located at 2520 Flora Street, Dallas, 75201. Season tickets, subscription packages, and student and senior discounts available. Tickets may be purchased online at dcsymphony.org, by calling 214-449-1294, or in the lobby the night of the event. Doors open at 6:30 p.m.