By Sara Newberry
Jack's Kitchen is a cheery little spot that serves southern-inspired dishes at brunch, lunch and dinner. On the face of it, the dishes are pure comfort food — you'll find meatloaf, pot roast, and mac & cheese — but the elements of the dishes are more sophisticated. The mac & cheese is made with truffles and gruyere; the pot roast is tossed with penne pasta and marinara sauce. Jack's concept may seem familiar, and that's because the first iteration (called Jack's Southern Comfort Food) was located at 1905 Greenville Ave, opening in 2012, and closed within about a year. 
Scott Jones, owner and executive chef of Jack's, has kicked around the Dallas restaurant scene for decades. His vast experience is evident in his cooking. When so many chefs rely on bells and whistles to gussy up what is otherwise average cooking, it's refreshing to see a kitchen turn out the best examples of familiar dishes without needing to reinvent the wheel. 
The deviled eggs are a perfect example. They're like the best ones your mom made for the neighborhood block party, a little salty and a little spicy, topped with chopped pickles. In a time where deviled eggs are on every menu, with every added ingredient from beet juice to sriracha to prosciutto, these are a comforting version. 
A turkey meatloaf may not seem like the most exciting menu option, but this one is so spot-on that I would rather have it than most "fancier" dishes on offer elsewhere. It is moist and flavorful, topped with a slightly sweet marsala-mushroom gravy. Perfectly seasoned mashed potatoes and green beans complete the plate. "Belly, Butt and Beans" is a mix of braised pork butt, crisp pork belly and succulent butter beans and vegetables. Again, the seasoning was just right. The texture of the pork butt was slightly off — I wanted it to fall apart, but it was a little tough. The beans were creamy and rich. 
At brunch, the Bubba Benedict uses pork shoulder mixed with green chile to top a crisp jalapeno cornbread waffle, with a fried egg and chipotle aioli finishing it out. It's not a light dish by any stretch of the imagination, but it's not the gut bomb you might expect. 
Again, all of the elements are perfectly seasoned and combine to create a fantastic finished dish. If you eat nothing else at Jack's Kitchen, you must try the biscuits. They are available in multiple forms, from chocolate to fried and tossed in cinnamon and sugar to several savory choices as well. The fried cinnamon-sugar version is called "Doscuits" on the menu; they are served with a brown sugar dipping sauce that I wanted to drink straight. I sprinkled mine with a little salt, but even without it, they were outstanding. 
A chocolate biscuit, offered for dessert at dinner, are also stellar. Biscuits can be tricky; it's impressive that they have managed to preserve the excellent texture of the biscuit. They're served with a sauce that best resembles thin chocolate pudding. It's enough dessert for four people.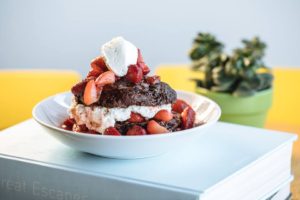 The savory biscuits are no less noteworthy. Along with classic biscuits and gravy, you'll find several sandwiches on the lunch and brunch menus, with fillings like pimento cheese, pot roast and brisket. I tried a Fried Chicken Biscuit sandwich. There are two versions: an open-faced one topped with gravy, and a regular sandwich with pickles and 5-pepper jelly mayo. I tried the regular one. The chicken was perfect: golden, tender and crisp on the outside. The 5-pepper jelly mayo emphasized the sweetness of the biscuit but also worked with the pickles to cut through the richness of the other ingredients. 
Service at Jack's is friendly, warm and enthusiastic. From the minute you walk in, you're treated like you're a regular. The atmosphere is welcoming and homey, the walls adorned with drawings of flowers and vintage kitchen appliances created by a local artist. 
Jack's is one of those places that didn't take long to become a neighborhood favorite. It already feels like they've been here for years. Here's hoping they will be. 
Jack's Kitchen
6042 Oram St.
972-685-6753
jackskitchen.com
Tuesday – Saturday 11 a.m. – 2 p.m. and 5:30 – 9 p.m.
Sunday 10 a.m. – 2 p.m.
Closed Monday