By Shelia Huffman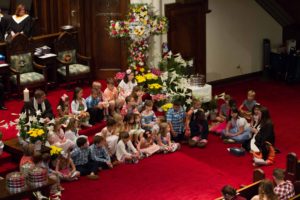 Steeped in local history and firmly embedded in the community, East Dallas Christian Church (EDCC) often referred to as an urban oasis, plays a vital role in the lives of the people who make up the fascinating and diverse neighborhoods east of the city.
The church is home to The Housing Crisis Center, whose mission is to prevent homelessness and stabilize those at risk; East Dallas Community Organization, a non-profit seeking to increase availability of quality housing and educational opportunities; and Family Compass, helping build healthy families by preventing child abuse and neglect. EDCC is the ELM East Dallas Campus of Literacy Achieves helping families become strong, independent and self-sufficient through volunteer-based English literacy programs.
Additionally, the congregation supports The Bridge, Juliette Fowler Communities, It's My Park Day, Feast of Sharing, The Agape Clinic and more.
EDCC is celebrating its 115thanniversary this month and they want to show their appreciation to the community who has helped make the church the strong force and energy that it has become through the years, fulfilling God's purpose for this earth.
Saturday, Nov. 17 will be Community Appreciation Day. Open to the community, the celebration will be an afternoon of free, family fun. Festivities will be held under the big tent next to the Worth Street Community Garden between 2-5 p.m.
Sliders, cupcakes and cold drinks will be provided by Gateway Buick GMC. A DJ will keep the party rocking and rolling all afternoon. The Children's Corner will offer crafts and a safe place to play. Oncor and the Fire Department are bringing big trucks for kids to explore and a petting zoo will allow "city kids" the opportunity to be up close with animals who live on the farm.
EDCC is located at 629 N. Peak Street. Look for the big tent Saturday afternoon, rain or shine. For more information, contact Janie Autz at 214-824-8185.