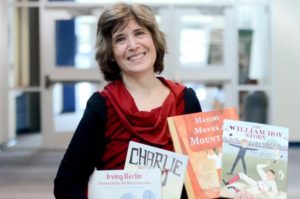 By Shari Goldstein Stern
Nancy Churnin made a pledge to a deaf man who was a total stranger. She learned his name, Steve Sandy and he asked her to write a story about the deaf baseball player, William Hoy. It seemed that Sandy had emailed her expressing appreciation that she had written about his son's play at Garland High School, "The Signal Season of Dummy Hoy."
Sandy explained that he is a friend and representative of the William Hoy family and that his dream is to get William Hoy into the National Baseball Hall of Fame (NBHF) where he would be the first deaf player honored there.
"I proposed that I would write a children's book that would inspire kids to write letters to the NBHF on Hoy's behalf. It's happening," Churnin announced excitedly.
As the Dallas Morning New's (DMN) theater critic, Churnin wrote an article about William Hoy in 2003. The writer spent 10 years learning how to write children's books, acquiring an entirely new skill set. "After online classes, workshops, conventions, critique groups, memberships in writing groups, I finally got a wonderful agent, Karen Grencik, who believed in William Hoy and me," the journalist said.
"The William Hoy Story, how a Deaf Baseball Player changed the Game" went on the market in 2016, won multiple awards, and has been on multiple states' "Best" lists.
"My most well-known subject was 'Irving Berlin, the Immigrant Boy who made America Sing,'" but while most adults know Berlin's music, the kids I visit in classrooms don't," she said. In the book, Churnin addresses the importance of Irving Berlin's story as a reminder of how grateful America should be to welcome immigrants from other countries. In the Irving Berlin book, children learn how Berlin arrived in America as an immigrant — a penniless refugee who didn't speak a word of English — and grew up to become one of our most famous songwriters and to write "God Bless America" as his gift to the country who gave him his home.
On Saturday, April 7 from 9 a.m. to 5 p.m. the Dallas Book Festival will be free and open to the public at the J. Erik Jonsson Central Library, 1515 Young Street, Dallas, 75201.
The book about Berlin will come to the market May 1, but early copies will be available at the Dallas Book Festival where Churnin will autograph them. Also at the festival, Churnin will serve on a panel with award-winning children's book author Karen Blumenthal of Dallas. Librarian Amy Priour will be moderator.
The topic "Teaching Social Justice Through Children's Books" will be held on the second floor from 1-2 p.m. Barnes & Noble at Lincoln Park will also host a launch party Sunday, May 6 at 4 p.m.
"I hope that the children and adults who share my books with them realize that dreams can come true and that every one of us can make a positive difference in the world. You don't have to be the biggest and strongest. You don't have to be rich or famous," Churnin said.
"You have to have an idea and you have to be willing to work hard and not be deterred by anyone who tells you it can't be done because it's never been done. The people who succeed in making the world a better place for themselves and others are the ones who don't give up."
Churnin enjoys doing school visits and also Skypes with classrooms. She said William Hoy is in the Cincinnati Hall of Fame now and urges children to write to vote him into the National Baseball Hall of Fame at 25 Main St, Cooperstown, NY 13326.