By Shari Goldstein Stern
If you were singing, "I'm gettin' married in the mornin'" leaving the Music Hall after Broadway Dallas' production of "My Fair Lady," you were not alone. The showstopper of the evening was Michael Hegarty as Alfred P. Doolittle, Eliza Doolittle's father, in the unforgettable, crowd-capturing, production number, "Get me to the church on time." With sparkly pink-clad, exaggerated chorus girls who ended up carrying out a dressed-to-the-nines Doolittle, "whoo hoos" from an excited audience were deafening.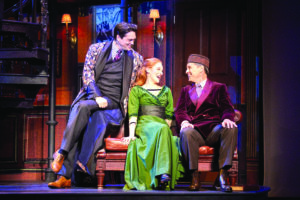 For the patron who has never seen the live stage version of the classic Lerner and Loewe musical, "My Fair Lady," you will be overjoyed with the current Broadway Dallas (BD) production at the Music Hall at Fair Park, running through November 13. 
It is a given that linguistics Professor Henry Higgins is self-absorbed, condescending and lacks compassion. He's even a bully. There's no escaping the comparison between Rex Harrison, who originated the role of Henry Higgins on Broadway and in the film, and anyone else who bravely takes on the part. Jonathan Grunert does a good job and has a lovely voice, but with the accent, he's hard to understand. 
The real question is: Is Professor Henry Higgins a misogynist? When he pronounces, "Let a woman in your life, and you're up against a wall. I'd be equally as willing for a dentist to be drilling than to ever let a woman in my life," does it seem that way? 
"Let a woman in your life, and you're plunging in a knife, let the others of my sex, tie the knot around their necks, I prefer a new edition of the Spanish Inquisition than to ever let a woman in my life," the Professor adds convincingly. Regardless, it's worth a conversation and a laugh. You can continue that conversation when the professor realizes he has "grown accustomed to her face" in the second act.
While Madeline Powell as Eliza has an exceptional voice, she isn't believable in the role. The red hair on her character is different, but not necessary or effective enough in making the role her own. Powell just isn't memorable.
The role of Mrs. Higgins, Henry's mother, is written as a grounded, intelligent, empathetic woman filled with warmth. Becky Saunders nails it. She's so lovable you want to take her home with you.
For the part of Freddy Eynsford-Hill, Cameron Loyal is effective as the misguided, would-be romantic interest of Eliza. He's convincingly vulnerable and equally handsome. While his voice is powerful, his accent seems too forced, and often to the point of sounding silly.
Michael Yeargan's sets are magnificent. Buildings are so dimensional you feel like you can walk up, under the glow of the striking streetlamps to the flower girl, Eliza, for a bunch of posies. And the professor's library couldn't feel more authentic. You can almost smell the distinct, pleasant aroma of books.
The real star of the show is the exquisite costumes by Catherine Zuber, a multi-award-winning designer with a cache of recognition for Broadway productions, including "South Pacific," "The King and I," "Fiddler on the Roof" and "My Fair Lady." Each of Eliza's entrances is jaw-dropping with another magnificent gown, fully accessorized with a stunning, indescribable hat. When she appears at the Ascot Gavotte in flowy white and black and a remarkable matching hat, she is breathtaking.
At the Ascot, sound designer Marc Salzberg gives the audience a brilliant,  unexpected thrill when the loud, while muffled sounds of stampeding racehorses travel from one side of the theater's ceiling to the other and then back. It took the audience a moment to process that they were hearing the horse race itself.
You may agree that the score, with the orchestra led by director David Andrews Rogers, known to his many Dallas friends as "DAR," is one of the most memorable ever written. DAR always brings out the best in his artists, and this music was divine. Turn DAR loose with a score that includes "I Could Have Danced all Night," "On the Street Where you Live," and "With a Little Bit of Luck" and you've got yourself a Broadway musical. 
Broadway Dallas' "My Fair Lady" continues at the Music Hall at Fair Park through Nov. 13 For information, visit broadwaydallas.org.