NATIONAL MERIT SEMIFINALIST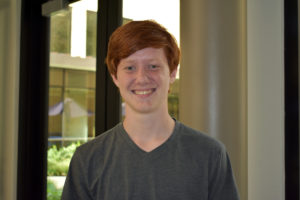 By Gigi Ekstrom
Lakehill Preparatory School is proud to announce that senior Justin Reed (pictured at right) has been awarded the distinguished honor of National Merit Semifinalist for the Class of 2019. Only 13 schools in all of Dallas, both public and private, can claim a National Merit Semifinalist this year. Reed is the only honoree from a school in East Dallas.
More than 1.6 million juniors in more than 22,000 high schools entered the 2019 National Merit Program by taking the 2017 Preliminary SAT/National Merit Scholarship Qualifying Test (PSAT/NMSQT).
The nationwide pool of Semifinalists, which represents less than one percent of U.S. high school seniors, includes the highest scoring entrants in each state. These academically talented high school seniors have an opportunity to advance in the competition for National Merit Scholarships, with a combined worth of more than $31 million, that will be offered next spring.
"As a National Merit Semifinalist, Justin represents some of the most academically talented students in the country," said Headmaster Roger Perry. 
"We join our teachers and his proud parents in congratulating him for this highly esteemed academic honor."