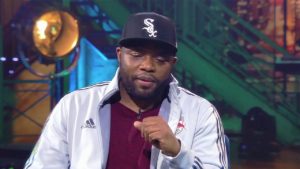 By Katrina Craycroft
Who has your back? Who, through devotion, honor and example, has earned the right to serve you a heaping helping of tough love? Most would answer "family," but what if you're a kid, and instead of loving you, one parent abandons you, and the other lays you on the altar of their addiction? Who do you turn to? In his memoir, "Suga Water," author Arshay Cooper compels his readers to face this existence and how he changed sports history to rise above it.  
Cooper is frequently asked to speak to a variety of audiences, including schools, graduations, conferences, churches and sports teams. Living the promise that, "Win or lose, rowing is the tool you use to fix things," Cooper summarizes, "When I was angry, the erg (rowing machine) helped, when I needed peace, the water helped, when I needed discipline, the sport helped."
On Thursday, Sept. 12 at 7 p.m., Dallas United Crew will present Arshay Cooper at Winfrey Point on the shores of White Rock Lake. Cooper will speak of his own experiences and how the community can make the boathouse a lighthouse for the community. The event is free to the public. 
Arshay Cooper grew up on Chicago's West Side. The second of four children, he was born to a single mother who escaped the demons of her own abuse through crack cocaine. Arshay's family life was stable but frail. For high school, Cooper opted into Chicago's Manley Career Academy, with dreams of becoming a chef. Gangs were prevalent. Distractedly bumping the wrong shoulder in a school hallway could get you jumped after school. Protection and profit enticed young men, including Cooper's brother Shaundell, but the odds were against such decisions — one in three of the neighborhood's young, black men would die in the streets. "Being out there is like dying for a neighborhood you don't even know. The homeboys tell you they've got your back, but weeks later you're nothing but a memory.  There is no way I'm going to trade my life for a spray-painted shirt, a forty-ounce and an R.I.P. sign on the wall."  
One day, a crew rowing shell showed up in the Manley school cafeteria. Coaches were recruiting for a rowing team. Cooper's friend Preston wanted to check it out. A crowd gathered around the coaches and equipment. "Crew is not for everyone," began the program's benefactor, "It is a thinking man's sport. It doesn't matter if you have natural athletic abilities; what you need is discipline, commitment, focus and the ability to work well with others. We are not just trying to give you the opportunity to row. We want to give you the opportunity to think outside the box, be young entrepreneurs, go to Ivy League colleges, and travel the U.S. This is a very white sport. There are no all black crew teams.  You will be the first."
Getting faster in rowing requires dedication. Weeks of workouts build strength that mere days of rest can diminish. Muscle memory requires constant practice. Each person in the boat must make this commitment to himself and the team. 
The oarsmen of Manley Crew faced inevitable distractions that could have easily derailed their training, but they held each other accountable, backed each other up and encouraged each other in each personal best, each improved practice. They were ready to face their biggest race: "We've finally earned the one thing that we were searching for: respect. [Coach] has worked hard to teach us to respect ourselves, our bodies, our time, our competitors, our teammates and crew culture. When we finally figured that out, the world overflowed with an abundance of respect right into our laps."
Visit dallasunitedcrew.org for tickets and to learn more about rowing on White Rock Lake. Dallas United Crew is a registered 501(c)3 whose mission is to unite Dallas and empower live through rowing and dragon boating.