By David Mullen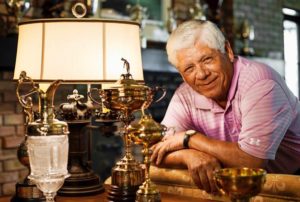 Despite being played for centuries by renown players like Tom Morris, Byron Nelson, Sam Snead and Ben Hogan and the modern generation featuring Tiger Woods, Phil Mickelson, Rory McIlroy, Sergio Garcia and Jordan Spieth among others, the golden age of golf was the 1960s, '70s and '80s. Players in those decades made us watch the game. Players in those decades made us want to play the game.
Four legendary golfers in that era fought it out for titles with class and respect for the game and each other. On the Mount Rushmore of golf, there is Jack Nicklaus, Arnold Palmer, Gary Player and Dallas native Lee Trevino.
At 78, Trevino is still sound in mind and body and goes to the gym every day despite the fact that he has steel rods in his body after being hit by lightening in 1975. He won six major championships (the U.S. Open, The Open Championship and the PGA Championship twice) and 29 PGA Tour events overall in his career. I spent 30 minutes with Trevino prior to the SMU Athletic Forum at the Hilton Anatole on Nov. 2.
"I won six majors, but the one that stands out more than any was the 1971 playoff at Merion [Golf Club in Ardmore, Pa.] with Jack Nicklaus," Trevino said when I asked him about his favorite golf memory. "At the time, I was kind of graded as a 'flash-in-the-pan.' They had no idea who I was or where I came from, even though I had already won the [U.S.] Open in 1968 in Rochester [at Oak Hill Country Club]."    
"I never did feel like I belonged," Trevino said. "This was a completely different fraternity. I came up in Rowlett, Texas on a cotton farm. So I wasn't too familiar with what these guys were doing out there. I was just playing. That's all I knew how to do. He [Nicklaus] and I tied at 280 at Marion, and then went into a playoff and I shot 68 and he shot 71 and I beat him by three shots. They [other pros] couldn't beat him. But when I beat him, pros that wouldn't speak to me were running across two fairways to shake my hand. That's the first time I felt like I qualified for the fraternity.
"People ask me 'What does it feel like to win a golf tournament?' I tell people my favorite thing is to go to the locker room on Sunday evening after the round and no one is in there. Trash is everywhere. Everybody is gone. You know what that means? That means you've won. There is not a soul in there but the locker man with his hand out waiting to get paid."
About his close relationship with the late Palmer, Trevino said: "He was an icon. He was the Pied Piper. You followed Arnie. We had a tremendous amount of respect for him. He was special. He will not be forgotten."
In analyzing today's crop of young golfers playing 7,500 yard golf courses and still shooting low rounds, golfer Trevino became Professor Trevino.
"These kids today have taken technology so far," Trevino said. "The first thing you have to take into consideration is the club head. It's made of titanium. It has trampoline effect on the face unlike persimmon. The reason we used 43″ shafts is because you couldn't get a head light enough. Because of the heavy steel shaft, you had to go short.
"Now what has happened, because of the lighter head with trampoline effect, is you've added eight to 10 yards to a drive," Trevino said. "The shaft, because it is graphite, instead of being 135 to 140 grams, which Nicklaus used — he could hit the ball 300 yards with that damn shaft — is now 60 grams. By having the shaft lighter and the head lighter, you can go longer and that has added another eight to 10 yards.    
"As for the golf course, the mower has probably done more for golf than anything," Trevino said. "I remember, when I played, they mowed Tenison Park or Bob-O-Links [the bygone East Dallas course] once a week and the greens on Mondays, Wednesdays and Fridays. Today, sometimes they mow the greens twice a day. They are so perfect they are like a pool table.
"When they get inside of 10 feet, these guys don't miss. And by mowing the fairways, they are firmed up and the ball runs out more. That's added eight to 10 yards to the equation. So now we have picked up 30 yards. That turns a 280 [yard] hitter into a 310 [yard] hitter. If they used my equipment, they would be hitting it 280.
"Now comes the individual. He's taller and he's more in shape. They have learned what muscles create speed. They take that [exercise] ball and they get the thighs stronger. They take the ball and turn and go 'whoom' to get their right hip firing. They all train like hell. Gary Player was the only one that lifted weights when I was playing. So now the individual, with his body, has added eight to 10 yards. So now you have picked up 40 yards. You tee off 14 times, add 40 yards [per hole], and suddenly that 7,500 yard golf course is not that long."
Trevino still plays golf, but primarily with his wife of 35 years, Claudia. For a man who has played thousands of rounds of golf all over the world, he lists Pine Valley Golf Club in southern N. J., Cypress Point in Pebble Beach, Calif. and The Greenbrier in White Sulphur Springs, W.V. as his favorite golf courses. He is a member of Preston Trail Golf Club in Dallas, among other courses.
"Golf is in a great situation," Trevino said. "But we have lost since 2000 a tremendous amount of golfers.  And the only reason is because it is too hard for them now. The courses being built or renovated are too difficult for the average guy. You're an office guy. You want to go out on Saturday and have a good time and not get beat up. And what happens is you get beat up. So you say, 'What the hell. I'm not going to do this anymore.'"
I mentioned golf designer Pete Dye, notorious for his difficult tracks. "Pete Dye has built some of the toughest golf courses I have ever played and some of the best," Trevino said. "The best golf course he ever built — he had Nicklaus as an assistant — was Harbour Town [Golf Links in Hilton Head, S.C.]. I opened it in 1975. I played an exhibition there and shot 68. I won eight gold krugerrands." 
In December 1956, at 17, Trevino joined the U. S. Marine Corps, and served four years as a machine gunner and was discharged in December 1960 as a corporal with the 3rd Marine Division. During his playing days, Trevino was given the nicknames "The Merry Mex" and "Supermex," which today would be considered politically incorrect.
"That was given to me by the fans in Cleveland," Trevino said. "I didn't do it. I am an American. That's what I am. I am an American of Mexican descent. I served in the Marine Corps. But I did not start "The Merry Mex" or "Supermex." But I copyrighted it. I'll get you a T-shirt."