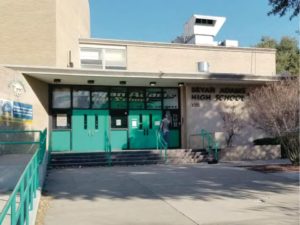 Major Facilities Improvements Coming to 
Bryan Adams High School
I am proud and pleased to tell everyone that Bryan Adams High School received the Texas Education Agency's highest rating by earning seven out of a possible seven academic distinctions. The Cougars are back on top and roaring with pride!
 I am also excited to share with you the great news about the proposed renovations and additions coming to Bryan Adams.
 The Dallas ISD Board of Trustees approved the allocation of $69,000,000 of 2015 bond funds for the project, which is now in its beginning stages. This is the first major update to the school since it opened in 1957.
 The proposed projects include a new 2500 seat competition gym to better serve the BA athletic department, and includes the boy's and girl's locker rooms, weight room, training and gym.
 There will be new classroom additions, including 10 classrooms, and restrooms.
 The Fine Arts Suite will be updated to better serve musicians and performers at BA, including the band, choir and orchestra halls, acoustical treatments, instrument and uniform storage, and practice rooms.
 The administrative area will be renovated, including a secure vestibule, reception, admin offices, counselor suite, conference room, teacher workroom and lounge, clinic suite and restrooms.
 There will also be $17 million of life cycle replacement and renovation work throughout the building. Last but not least, the plans include a new marquee sign located at the front entry.
 These additions and renovations are just in the beginning phase with an anticipated completion date of December 2021.
Sanger Teacher Named Districtwide Elementary School Teacher of the Year
Congratulations to Elisa Morrissey from Alex W. Sanger Preparatory School, who was named this year's Dallas ISD Districtwide Elementary School Teacher of the Year. Dallas ISD has 147 elementary schools, so this is a tremendous distinction. Mrs. Morrissey's ability to bring out the very best in her students is one of the qualities that has earned her this honor.
Kudos
Congratulations to Jack Lowe Sr. Elementary School on being nominated for the 2019 National Blue Ribbon Schools award. The school is led by Principal Sandra Barrios and is being recognized for exemplary progress in closing achievement gaps while maintaining high levels of achievement among all students. Founded in 1982, Blue Ribbon Schools is a U.S. Department of Education program that recognizes public and private elementary, middle and high schools. 
Kudos to District 3 Destination Imagination Regional Tournament participants, Universal Dream Team from Truett Elementary and BA Clean FreaX from Bryan Adams, who are advancing to the Destination Imagination State Tournament taking place March 22 and 23 in Corpus Christi.
Upcoming Events
All-Pro Dads Training and Support Session is on Thursday, March 7 from 6:30-7:30 p.m. at Thomas Jefferson High School. All Dallas ISD dads are invited to the event to be empowered, inspired and equipped to better our schools, families and communities.
Read for Me is Saturday, March 23 from 8 a.m. to 1 p.m. at W.H. Adamson High School.
Read for Me is a free, interactive literacy event for all grade levels featuring activities, authors, guest speakers and more. Additionally, the World Languages Asian Festival will be represented. Learn more and register at www.dallasisd.org/readforme.
A special thank you to John Stettler for his dedicated and continuing service as my representative on the Dallas ISD Bond Committee and for tutoring students at Gill Elementary for many years.