By Tristan Hallman
Mayor Eric Johnson on Monday called on the city's employers to join Dallas Works, the mayor's summer jobs program for young people in the city. Nearly 2,300 students have applied for summer employment through Dallas Works — which focuses on young people ages 15-24 — this year. The program connects those young people with jobs and training opportunities.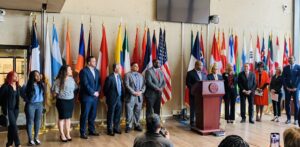 "If you had to boil down what my mayoral administration is primarily about, it's about two things: safety and opportunity for our residents and for our communities," Mayor Jonson said. "Dallas Works is about both. I encourage our city's employers to sign up now to keep our Dallas youth safe and out of trouble and to provide them with opportunities to make connections, earn money, and develop valuable life and work skills." 
Potential sponsors can find more information about how to participate at DallasSummerJobs.org.
Mayor Johnson said he wants to continue to scale the program. "This is important for our city," Mayor Johnson said. "This is especially important for our kids who grow up in underserved and overlooked communities, where opportunities are difficult to come by. And Dallas Works is personally important to me as someone who grew up in West Dallas and in Oak Cliff and who is now raising three children [here].Dallas is and always has been a city of dreamers. Together, we can work to make our young people's dreams come true."