By Shari Goldstein Stern
Of the 58,000 calls received by Dallas Animal Services during 2020-2021, approximately 34,000 were reports of stray dogs, along with the helpless ones in confinement and those suffering from lack of care.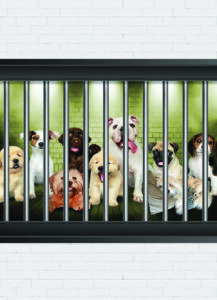 Dog rescue is not "trendy." It is a critical, ongoing need and a personal choice made by thousands of dog enthusiasts whose empathy and concern for dogs' welfare drive them to helping animals that can't help themselves.
Dallas native, Steve Kravetz shouts out to all dog rescuers and prospective rescuers with his new book, "Tales of the Tails: Every Rescue Dog has a Story." A rescuer himself, he speaks to readers about the joys of rescuing and the thrills of adopting and fostering some of those rescues until a forever family takes them into their loving, forever home. 
Half-Price Books on Northwest Highway at Central Expressway will welcome readers to a look at "The Tales of the Tails" on Sunday, Aug. 7, 1–3 p.m. Author and dog rescuer Steve Kravetz will read some of the stories from his book and, being the storyteller he is, will have some new ones to share.
Along with answering questions like "How do I reply to, 'Mom, can we get a dog for the holidays?' he will encourage parents to consider the book a fun read for kids, late elementary through high school. The adorable photos on their own, along with the author's engaging storytelling, will keep them entertained while they absorb thoughts of generosity outside of themselves.
Kravetz introduces readers to what they can expect from being a rescuer, and what it must mean to dogs that have been left behind. Not all stray dogs have been abandoned, though. Some may be lost or a runaway. The dog's family could well be heartbroken, while rescuers try to reach the dog's owner, based on the dog's tag information. Responsible owners are diligent about tags being essential and current.
According to Kravetz, "Rescuing abused, neglected, and lost canine souls, and finding them a home with new families who will love them no matter what their past has been, takes a special person. Dog rescues are made up of lots of these wonderful loving people."
The author continues, "They [rescuers], are volunteers, whose time is spent making sure the animals have been groomed and their health issues, both physical and mental have been addressed. They often keep the animal in their own home until a new forever home can be found."
"These people get much more love and satisfaction back for all the time, money, and effort they put out. One of the biggest rewards comes from seeing a dog and their new owner first meet and fall in love," he added.
Kravetz founded his family's own rescue, "For the Love of a Lhasa"  (FTLOAL), a  501 c/non-profit organization which they ran for almost ten years. During those years, many dogs came across his family's door, with each dog having a story. 
In "The Tales of the Tails," Kravetz captures your interest with some of the many stories about dogs he has experienced or come across. He describes canines who have made it to "the Big time." Who knew that a dog named "Rinty" would impact radio, movies and TV for decades as Rin Tin Tin, his theatrical name? An American service member named Lee Duncan found a male German Shepard next to a World War I battlefield. According to his tags, he was born in Fliery, France in 1918, and Duncan named him "Rinty." Rinty crossed the Rainbow Bridge in 1932 at age 14, having starred in thirty movies and 164 episodes of  "The Adventures of Rin Tin Tin." His direct genetic descendants appeared in many films and TV episodes.
TV and movie star "Benji" was a rescue; so was Sandy From "Annie;" and from TV's "Full House," Buddy was a rescue. Spike, who starred in "Old Yeller," was a yellow Mastiff/Labrador retriever who was rescued by a friend of trainer to the stars, Frank Weatherwax, who found him in the Van Nuys Animal Shelter.
Kravetz, born to be a storyteller, includes many of his favorite tales about dogs. A few of them are "Troublemaker Toby," "The Herd ~ Six Wild Maltese," "Yogi, the Bear," and "Mookie, the Psycho dog." Some of the author's stories are moving, many are cute, some are funny, and most are inspiring. 
To register your rescue organization with SPCA Dallas: spca.org/resources/help-animals/rescue-partner-form/.
Rescue, Rehab, Reform is a clearing house of information every rescuer, foster, adopter and those enthusiastic about reform can refer to with questions. https://www.dallasdog.org/.