By Tina Parker
Kitchen Dog Theater continues its 30th season of theater and its season-long celebration of playwrights of color with the world premiere of "Last Ship to Proxima Centauri" by Greg Lam. The Earth has become uninhabitable. The last escape ship from Earth (Seattle, to be exact) arrives to their new home centuries after all the others. They are not prepared for what they find there: A planet full of unimpressed people of color who are not happy to see them.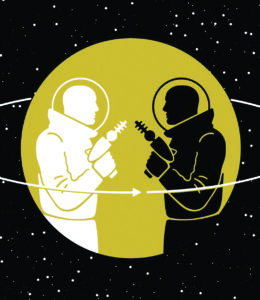 A dark science fiction comedy, "Last Ship to Proxima Centauri" asks us to examine 21st Century America, including white supremacy and cultural appropriation, through the lens of futurist neo-colonialism, 2000 years after the end of Must-See TV.
 KDT Co-Artistic Director Tina Parker will direct and act (Adelaide Russell) in Kitchen Dog's first mainstage of their anniversary season. She is joined in the cast by KDT Artistic Company Members Lee George (Tunde/Control), Liza Marie González (Paz) and Max Hartman (Morris Emerson) as well as Mark Tam Quach (Henry Hirano), in his first appearance at Kitchen Dog. 
The play features multiple languages and dialects, so a dialect/language team was assembled: KDT Co-Artistic Director Christopher Carlos (Spanish), KDT Artistic Company Members Heidi Shen and Mike Wang (Mandarin) and Kayodè Soyemi (Yoruba). Karve Media, a company founded by KDT Artistic Company Member Jonathan Taylor, will be serving the film production crew. KDT Managing Director Tim Johnson is serving as COVID-19 Compliance Officer for the production. 
For tickets and more information, call the Kitchen Dog Theater box office at 214-953-1055 or buy online at kitchendogtheater.org.