By Chic DiCiccio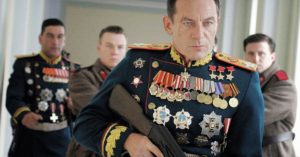 By Chic DiCiccio
In January of this year, the Russian Ministry of Culture banned "The Death of Stalin." Their office called this scathing, bitingly funny satire an example of "ideological warfare." That information alone should be the biggest selling point for "The Death of Stalin."
Anyone who has seen "In the Loop" or HBO's "Veep" should have an idea of what an Armando Ianucci-directed movie will be about. One can expect boatloads of government cynicism conveyed via hapless politicians and alleged intellectuals.
"The Death of Stalin" has it all, but Ianucci takes an almost unbelievable leap and dares to ask the question, "Can we mine for laughs after the death of a genocidal maniac?"
Thankfully, the answer to that question is a resounding yes. This is possible because the movie doesn't use real human suffering for chuckles and instead comedically barbecues the Soviet Union's leadership into bumbling, power hungry buffoons. It also plays fast and loose with actual historic events that aren't funny when years apart but are downright hilarious when crammed into a four-day span.
However, the most brilliant move in "The Death of Stalin" is the deliberate decision for all of the actors to use their real accents.
In a career loaded with highlights, Steve Buscemi's turn as Nikita Khrushchev may be the icing on the cake. Buscemi turns Khrushchev into a vulgar, motor-mouth that is better at one-liner insults than governing. Khrushchev is a member of Stalin's Central Committee which features, among others, Simon Russell Beale as Lavrentiy Beria (look him up if you dare, he was barely human) and Michael Palin as Vyacheslav Molotov.
Once Stalin (Adrian McLoughlin) falls ill, Beria and Khrushchev begin lobbying other Central Committee members and Stalin's daughter, Svetlana (Andrea Riseborough), in an effort to control the acting Supreme Leader of the Soviet Union, Georgy Malenkov (Jeffrey Tambor). Of course, when Stalin dies, all bets are off, and these shallow madmen go completely off the rails.
"The Death of Stalin" is the type of movie when there are stretches with nary a laugh out loud moment, but instead silent moments of jaw dropping, "can't believe what you're seeing" silence. Still, there are plenty of belly laughs and they hit hard and fast thanks to rapid fire dialogue. The aforementioned Buscemi curses as well as any actor in history and watching scenes with him and Michael Palin is pure comedic bliss.
There are also two standout comedic performances from Jason Isaacs as Red Army Marshall Georgy Zhukov and Rupert Friend as Stalin's vodka-soaked son, Vasily. Isaacs may be responsible for the funniest moment in the entire movie and Friend is so convincing as a foul-mouthed, spoiled brat that it allows for a plane crash to be funny.
Fair warning: "The Death of Stalin" is an extremely dark comedy with stress on the word "extremely." It's the type of movie that will alienate many people based solely on the fact that the actual events surrounding Stalin and his communist regime weren't exactly a laughing matter. There's also a load of history that a viewer is expected to be aware of and it could be tough to keep up due to the speed in which dialogue is delivered.
If none of those disclaimers scare you off, you'll quickly see that Michael Palin had to feel right at home while filming "The Death of Stalin." It is steeped in fearless Monty Python-like wit and never becomes tasteless, all due to the Ianucci's amazing balancing act.
Besides, it's worth the price of admission just to hear Steve Buscemi call someone "Slim Hitler."