GIRL SCOUT GOLD AWARD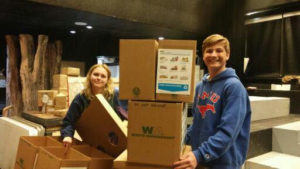 By Lauren Smith-Morris
Many White Rock Lake Weekly readers are likely recyclers. They have big blue bins in their alleys and driveways and take them to the curb for hassle-free pickup once a week. But what they might not know is that their neighborhood schools sometimes struggle to meet even this basic practice. Without separate classroom bins, or enough staff for collection, even Dallas ISD school staff and students who are motivated to recycle, can't or simply don't. 
I am a senior at Woodrow Wilson High School and last year I started Woodrow's current recycling program. My friends and I were always aware there was probably no recycling program at Woodrow, but this knowledge was always surrounded with confusion as classrooms use recycling bins for trash. The importance of sustainable programs like recycling is great, and knowing that my own school wasn't contributing to the pursuit of local environmental sustainability was worrying. The onslaught of global warming is growing more and more alarming daily, and it is vital that younger generations, especially students, involve themselves in bettering environmental responsibility and awareness on the local scale. This is why I decided to stop waiting for the administration to start a recycling program and just do it myself. 
Getting it started was slow. When the PTA and school couldn't fund my efforts, I went to Dallas ISD, and they donated an array of cardboard boxes to serve as recycling bins. The school signed off on the idea, and I formed a Recycling Club with a friend of mine. The club's members are awesome students who dedicate their time twice a week after school to collect and throw out the recycling, a hard and time consuming task. Though it took a lot of work and time to get started, having recycling at Woodrow Wilson has lifted a weight off many students' and teachers' shoulders. I hope Woodrow can be an example of a school that has a fundamental commitment to bettering local environmental awareness in the school and the community.