By Shari Goldstein Stern
First it was "Romeo and Juliet," and then came Tony and Maria, and now there's a new twist on old disparities in "A Bronx Tale" (ABT), running through January 6 at the Dallas Center for the Performing Arts – Winspear Opera House. This time it's a black woman and Italian man, trying to live their lives together on the racially-uncomfortable stoops of the Bronx, New York in the 1960s.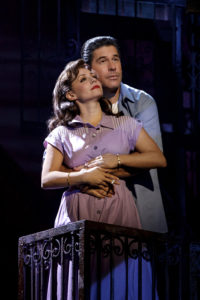 Joey Barreiro as Calogero is absolute perfection as the Italian teenager, torn between his father's idyllic view of life and his pull by mob thugs to a darker life on the streets. These guys aren't your classic bad boys though. These guys share compassion and love with their "gang," and pull the naïve teenager into their lifestyle, much against the will of his father, played authentically by Richard Blake.
Brianna-Marie Bell is a natural as the love interest, Jane, who comes across as genuine and smart. She is a talented vocalist and actress who played the role of Jane in the Broadway production. Bell exudes clear street-smarts, intelligence, warmth and compassion.
Frankie Leoni is the little kid alternating in the role of young Calogero, trying to make something of himself on the stoops, and is nothing short of adorable in the process of being tough. 
He previously filled the same role in the Broadway production of ABT. His character is comparable to that of Baby, a significant member of the Jets gang in "West Side Story."
"At least this doesn't have a tragic ending like "Romeo and Juliet," and "West Side Story," said a patron from McKinney. "It's upbeat and entertaining," he added. His wife, a Dallas attorney, called the show: "Spectacular. I hope everyone will see it."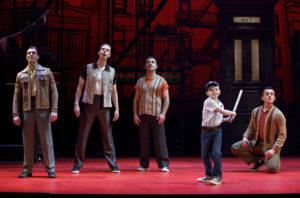 Presented by the star-strewn pairing of award-winners Chazz Palminteri, who wrote the book and the play, and Robert DeNiro, who directed, ABT features music by Alan Menken, eight-time Oscar-winner for "Little Mermaid," "Beauty and the Beast" and "Aladdin." 
DeNiro is the Oscar-winning actor who has starred in many films, including: "Taxi Driver" and "Raging Bull." DeNiro currently appears on episodes of NBC's "Saturday Night Live" as a convincing and riotous Robert Mueller, whose name has also become a household name for the Trump/Russia special counsel.
Palminteri is best known as an award-winning actor in films like the 1993 version of "A Bronx Tale," the 1995 film, "The Usual Suspects," and countless other major award-winning and nominated films. ABT is inspired by Palminteri's autobiographic off-Broadway show by the same name in 1989.
With the doo-wop music of the time and the racially-charged street-gang violence of the 1960s, ABT is a fresh approach to life on the streets of New York. The show has everything: Talented dancers with outstanding vocals and superb acting by the full cast. Production numbers are exciting, and sets are nothing short of amazing.
ABT is recommended for ages 12 and up, due to strong language and gun-shot effects. The musical lasts two hours and 10 minutes. "A Bronx Tale" runs through Jan. 6 at the AT&T Performing Arts Center – Winspear Opera House, 2403 Flora St. For additional information, visit attpac.org.