By Juliette Coulter
Dallas Love Field Airport and the Dallas Mavericks present "Lead With Love: A Conversation with Cynt Marshall and Tex Moton" where they talk about their commitment to leadership, diversity in the community, the Dallas can-do spirit and the Mavericks!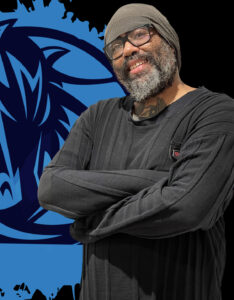 Cynt Marshall, CEO of the Dallas Mavericks, leads by example and challenges other leaders to listen and give a voice to those who are not heard enough. As the first Black female CEO in the NBA, she has been a dynamic force for inclusion and diversity within the Mavericks organization and during her 36-year career at AT&T. 
Tex Moton has been a leader in Dallas' art scene with his mural and graffiti art seen all over the city and beyond. In 2019, he created the Dallas Mavericks graffiti-inspired identity translated into uniforms and merchandise. One of his most recent projects is the Dallas Mavericks graffiti art at Dallas Love Field's Parking Garage C, level 2, and in the terminal. As customers enter the Dallas Love Field Parking Garage C on the second level, they are surrounded by Moton's dynamic paintings, murals and messages, many graffiti spray-painted in Mavs signature colors. Messages are painted throughout the garage and in the terminal and include phrases such as "Safe Travels," "Rowdy, Proud and Loud," and "We're all in this together." 
The event is on Tuesday, Feb. 9 at 2 p.m. (CST) LIVE on Facebook and YouTube. The registration link is: bit.ly/CyntandTex.