1 (3- to 4-pound) chuck roast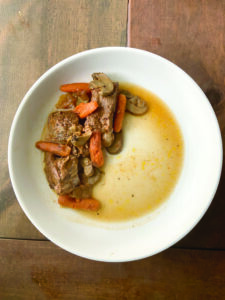 1 onion, chopped
3 garlic cloves, minced
2 cups baby carrots
8 ounces sliced cremini mushrooms 
2 cups beef stock, or as needed
Vegetable oil
Salt and pepper
Season roast with salt and pepper. Heat 2 tablespoons vegetable oil in a Dutch oven or Instant Pot. Sear roast on all sides until brown, then transfer to a plate. 
Add onions to pot and sauté until golden. Stir in carrots and mushrooms. Return roast to pot, then add beef stock to cover vegetables. Season lightly with salt and pepper. 
In Dutch oven: transfer to 300F oven and cook for 3 hours. In instant Pot: pressure cook for 1 hour. Season as needed with salt and pepper and serve.