By Stephan Sardone
Just after weathering the extreme weather full of blinding rain storms, golf ball-sized hail and heavy winds, as the late Glenn Frey sang, "The Heat is On!" Now is the perfect time to get a jump on your neighbors.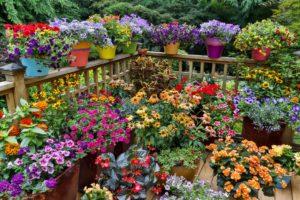 Hire a licensed air conditioning and heating specialist to do an early summer inspection. They may find some things that can be easily repaired or replaced before a summer AC breakdown could ruin your summer. You should also replace all filters now. While the air in your home should be cool, it should be clean as well. 
Turn your ceiling fan to counter-clockwise. Fan blades are tilted upward as they spin. Changing them to counter-clockwise will push air downward and create a stronger, more comfortable draft.
It is a good time to make cosmetic changes to your home. Temporarily get rid of thick draperies, fire logs, heavy rugs or mats, candles and blankets and put them in storage. Replace them with light colored items like throw pillows and thin rugs, and take the candlesticks off of the table in lieu of vases full of fresh-cut flowers.
Clean out the refrigerator and freezer. Throw out the bad ice and start anew. Make sure that there is no freezer buildup. Make room for hot dogs, hamburger meat, chicken breasts, popsicles and ice cream. No need to make enough room for 71 hot dogs, unless you are Joey Chestnut.
Make a run to your local, independent drug store or market. It is time to stock up on sun block, aloe, Bactine (am I dating myself?), Benadryl, insect repellant, outdoor bug spray and beach towels. Bring out the cornhole board, horseshoes, croquet mallets and badminton net. 
Have plenty of paper plates and plastic cups on hand (no Styrofoam). If you have a mud room, put the items there. Otherwise, clear out a linen closet. Keep most everything in one location and assign the kids to make sure that all items are returned to their rightful place at night. 
 Although not sexy, do a thorough cleaning of all windows inside and out. The nights are longer and the sunrises and sunsets can be breathtaking. Plus, you can keep an eye on the kids who will be outside enjoying their school break and possibly getting into some mischief.
You might as well go for it since you will be heading outside a lot. Bring out the brush. Paint or stain your deck, outdoor furniture, tables, doors and trim. And speaking of brush, make sure that all hedges, plants and trees are trimmed and get rid of any debris.
  Now the fun begins. It is time to prepare your backyard or patio as your primary summer living space. Fully inspect the barbecue and give it a good scrubbing with a wire brush. 
After cleaning, let it burn for 10 minutes to dry out. Make sure that you have plenty of charcoal, fluid or butane. And test the blender so you can make the best frozen drinks that will be the buzz of the neighborhood. 
Thoroughly clean all outdoor furniture. If you are not repainting the deck or furniture, give it a good power wash. You can rent a power washer for a half-day or a day at your local equipment rental shop, but do it early before everyone else gets the same idea. And add some colorful flowers in pots to the deck to enhance the outdoor experience.
You just got a jump on summer fun. Kick back and enjoy another margarita.