By Chic DiCiccio
R.I.P. summer movie season. It officially ended on August 29. Sure, September has a few big releases ("It Chapter Two" and "Ad Astra"), but for the most part, it's kaput. So where do movie junkies go to spend their valuable screen gazing time?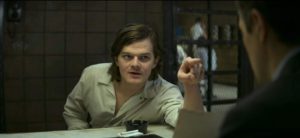 Netflix, that's where. If you can keep your eyeballs from glazing over while scrolling through their menus (seriously Netflix, sometimes less is more), go directly to "Mindhunter." 
This captivating series is dark, disturbing and possibly the most informative television show ever created. It's now two seasons into a planned five season run, so it's a perfect time to jump onboard or, if you bailed after one season (if so, how could you?), get caught up. 
Executive Producer David Fincher (who also directed the first three episodes) has his style stamped all over this series. Like "Zodiac," it's rich with information and detail, but never gets too gruesome or gory. These real-life events are freaky enough, and Fincher has mastered getting thrills simply by setting a tone. 
Season one focused on the creation of the FBI's Behavioral Science Unit, led by Agents Holden Ford (Jonathan Groff) and Bill Tench (Holt McCallany), and their interviews with famous mass murderers. These psychological tests lead them to Professor Wendy Carr (Anna Torv), who joins their team as an analyst. Ford's personal life was also a focus of the first season, as it showed how investigating these types of crimes can affect law enforcement agents. 
The second season follows the same format but focuses on the personal lives of Tench and Carr. Each of them has unique circumstances that weren't easy to deal with in 1979. Carr is closeted, fearing that her sexuality would affect how she's professionally perceived. Tench's problems are just as painful, as his adopted son's behavior is on par with the very same maniacs that he's studying. 
Unlike the first season, their Unit is called into the field to investigate the infamous Atlanta Child Murders of 1979. It's the first ongoing investigation for the team, and the politics and red tape involved make it difficult for them to correctly do their jobs. It's a fascinating look at how police work of the time wasn't ready for their then unorthodox methods. 
Don't worry, season one fans. There are still plenty of prison interviews to freak you out. Most notably, the Charles Manson (played to perfection by Damon Herriman) interview. There are even a few visits from Ed Kemper (Cameron Britton, perfect once again), whose charm and wit make him a character you love to hate. 
While Groff is still fantastic as Ford, who is now riddled by panic attacks and borderline Asperger Syndrome, the season truly belongs to McCallany and Torv. Each of them is due Emmy nominations for their gut-wrenching performances, along with the team of writers that intricately wove parallels between them and the whackos they study. 
If you're familiar with the Atlanta Child Murders then you know how season two of "Mindhunter" is going to end. It's a rare conclusion for a show loaded with unanswerable questions. But since Fincher wants to make you squirm, the vignettes featuring the BTK Killer ensure that you're never comfortable. His behavior is the antithesis of the FBI's work, which proves there's lots of work left to do. Probably three more seasons worth. 
Any chance Netflix can release them tomorrow?