By Shari Goldstein Stern
Can we agree that intimate scenes on the live stage can be uneasy to watch? After all, we're in the same "room" with the characters. Also, when actors break out into an angry, physical confrontation on the boards, can't the scene look cheesy and over-rehearsed? In your face? Not anymore. With specialized, high quality training and direction for those types of business, actors can now engage the audience seamlessly into the story and dispel any discomfort or smirks.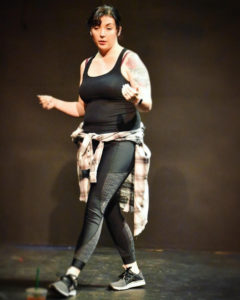 We talked to Ashley H. White, a warrior director in movement, intimacy and fight on a Sunday evening after she returned home from teaching a three-hour workshop in physicality at Stomping Ground Comedy Theater. She wasn't finished for the day yet, not even close. Next was quality time with her family, including nurturing the mind and creativity of her toddler, and then reading another script after his bedtime. The artist said about her work and her life, "Every second is scheduled, but most important is my family — I always make room to focus on them first." 
White is an award-winning director and teaching artist whose specialties are in movement, fight, and intimacy choreography and direction, with 15 years of professional theatre experience.
As an "ice-breaker" to White's story, here is what the director covers when she conducts a workshop in staged combat and physicality: slaps, punches, fists, chokes, holds and shoves, for starters. When she fight directs, there's more: Swords, brooms, shattered glass, stools, chairs and dowel rods have all entered the mix, and plungers, whips, ropes, knives, and lots of fake blood are all among her props. She has directed for theaters throughout the D/FW area, including Dallas' new IMPRINT theatreworks, which White co-founded with Joe Messina and Jessie Wallace. Ashley is the artistic director. IMPRINT theatreworks focuses on ensemble-based work with local artists who engage the community. The theatre just completed its first full season. 
Its next show will be "Ghost Quartet" by Dave Malloy at the Bath House Cultural Center on White Rock Lake. 
White describes it as a lovely, unique and haunting piece of theater. "The music is gorgeous, with an incredibly powerful plot. I love immersive theater and creating outside the box," she adds. 
In 2018, IMPRINT performed their inaugural show, "Glengarry Glen Ross," directed by White, "Blood Brothers" in the FIT Festival at the Bath House. In 2019, they opened their season there with "In the Next Room (Or the Vibrator Play)," which White Intimacy directed. 
"It's an awesome team of people. I would do every show there if we were able," she commented. Another venue IMPRINT has enjoyed is the Margo Jones Theatre at Fair Park. "Everyone involved with IMPRINT supports the ensemble theater collaborative." 
White's colleague, actor and producer Ken Orman, said: "Ashley's commitment to her creative soul is extraordinary. She appears to be fearless, out-working and out-visioning herself time and again. Last year, shortly after opening IMPRINT theatreworks, she and her team hosted a highly successful new play festival, 'IMPRINT theatreworks First Impressions.'" 
White was featured on 2018 year-end best lists for TheaterJones, Culture Map, and the Dallas Voice. She received three outstanding direction nods and an outstanding contribution for fight and intimacy direction from the 2018 DFW Theater Critics Forum. 
She won the 2018 Column Award for Best Director of a Musical — Equity. She recently choreographed fight scenes for "Angels in America Part II" and fights and intimacy for "Spring Awakening," both at Uptown Players. 
In 2012 White founded and is president of SCDallas, a resource for Stage Combat & Movement Instruction. With more than 600 members, SCDallas is host to an annual Regional Workshop, The Lonestar Smash, and mounts regularly scheduled "Fight Nights" and workshops.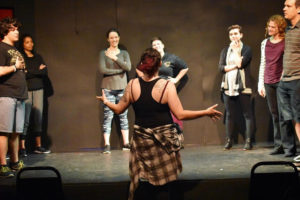 "Intimacy Directors International, founded by Tonia Sina, often uses the phrase 'Intimacy is everywhere.' It's about connection, both physical and emotional." White said, "It's about vulnerability. It's about telling the most human stories in a dynamic and beautiful way. Many shows include both." She is a member of Intimacy Directors International and is certified for Mental Health First Aid.
White studied her specialties at The American Musical and Dramatic Academy and is a graduate of the Studio Program in New York City. 
She has more than a decade of stage combat training, holding the distinction of Advanced Actor Combatant with the Society of American Fight Directors, with recommendation in: unarmed combat, single sword, knife, broad sword, sword and shield, rapier and dagger and quarterstaff. 
"Ashley's a great example for empowerment of women in theatre. I really respect what she has done and continues to do," fellow Dallas actor Morgana Shaw said.