By Karissa Condoianis
The final countdown to three of the most coveted food titles in all of Texas begins. The State Fair of Texas is proud to partner with Metro by T-Mobile to present the 15th Annual Big Tex® Choice Awards.
 On Sunday, Aug. 25, three winners will be crowned in the categories of "Best Taste – Sweet," "Best Taste – Savory" and "Most Creative."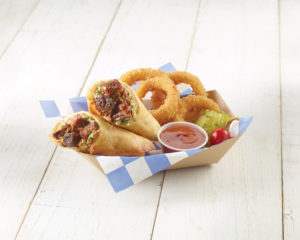 The competition began in early July with an impressive 49 entries represented by 30 concessionaires. Of those entries, 33 were selected as semi-finalists. Each entry was evaluated on four Fair-food elements: uniqueness, creativity, presentation and taste. After some tasty tests and delicious dishes, votes were cast, and the results are finally in! Now, the top ten finalists must present themselves to a prestigious panel of celebrity judges in hopes of securing one of the top spots. If your favorite entry did not make the final cut, fret not. Concessionaires may still choose to introduce their creations at their stands as a  new food during this year's Fair.
Calypso Island Shrimp Bowl by Stephen Alade (Savory)
Fernie's Fried Burnt End Burrito by Winter Family Concessions (Savory)
Ruth's Stuffed Fried Mexi-Cone by Ruth Hauntz (Savory)
 Southern Fried Chicken Fettuccine Alfredo Ball by Greg Parish (Savory)
 Texas Cream Corn Casserole Fritters by Clint Probst (Savory)
 Big Red® Chicken Bread by Brent & Juan Reaves (Sweet)
 Deep Fried Bayou Fruit Bites by Terrence & Lisa Henderson (Sweet)
 Fla'Mango Tango by The Garza Family (Sweet)
Peanut Butter Cup Snookie by Michelle Edwards (Sweet)
Quick Fried "Black Gold" Truffles by Glen & Sherri Kusak (Sweet)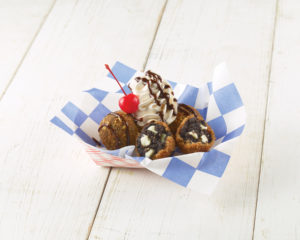 Mark your calendar for the 15th Annual Big Tex Choice Awards on Sunday, Aug. 25 at 2 p.m. in the historic Tower Building at Fair Park. Get your ticket today to be one of the first people to taste the 2019 winning foods along with the other finalists. Tickets are available online at BigTex.com/tickets for $125, with a limited number of seats available. Don't miss out on the fun — tickets are almost sold out, so buy yours now before they're gone!
 All proceeds from the Big Tex Choice Awards ceremony will be donated to the Big Tex Scholarship Program. Throughout its 27-year history, the Big Tex Scholarship Program has awarded scholarships to more than 2,400 students for a total of more than $12.5 million. 
Eligible recipients include graduating high school seniors from around the state of Texas who have participated in competitive youth livestock events held at the State Fair, as well as graduating seniors from six Dallas ISD high schools in the Fair Park area, State Fair of Texas seasonal employees who have worked three or more year of Fairs, or their dependents. With event proceeds going to a cause, a portion of each ticket is tax-deductible. Visit BigTex.com.