By Sara Newberry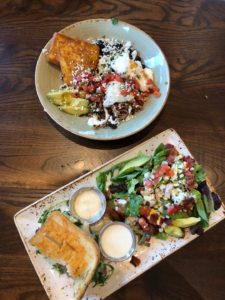 The name First Watch is inspired by the first shift of the day on a ship, and the goal of the Florida-based chain is to help their customers start their day off right with a delicious and reasonably healthy breakfast. Since the early 80s, First Watch was built on a "customer-first" philosophy, with a goal of making guests feel welcome and at home. They are also involved in numerous community projects, like Project Sunrise, their coffee collective based in Colombia, as well as Share Our Strength and the National MS Society. They recently opened an outpost at Lake Highlands Town Center, bringing the number of DFW locations to 12.
"Fresh," "local" and "healthy" are buzzwords here, and the menu reflects that, but not to the exclusion of an indulgence here and there. Quinoa bowls share space with Benedicts; steel-cut oats coexist with chorizo omelets. If you're not a big fan of breakfast, like myself, there are sandwiches and salads on offer as well. 
First Watch creates a seasonal menu; we were encouraged to order the Cornbread Carnitas Bowl over the year-round menu item, the Chickichanga (which I just wanted to try because of the name). It was a mess of tender shredded pork, crisp, slightly sweet cornbread, pico, avocado and sour cream. It's indulgent but still healthy, satisfying but not heavy. A year-round selection, the Classic Benedict, was not as exciting. The eggs were perfectly poached, but the nap of hollandaise on them was watery and flavorless. 
My one breakfast weakness is a pancake, and the pancakes at First Watch are top-notch. Not too sweet, not too eggy, not too mealy: these are my pancake ideal. And, you can order just one, which I appreciate. 
The sandwiches and salads I tried were mostly successful. A ham and gruyere melt had crisp bread and tangy dijonnaise; the tomatoes were mealy and not ripe. This is unacceptable in the summer in Texas, especially in a restaurant claiming to source local and seasonal ingredients. A side salad had no dressing on it. A roast beef and havarti sandwich was also excellent, with a pleasingly sharp horseradish sauce alongside. A half-size Cobb Salad was a definite upgrade from the side salad, loaded with avocado, bacon and blue cheese. 
The atmosphere is warm and welcoming, with service that's so friendly it can border on overwhelming — at least until you've had a cup or two of the strong, flavorful coffee that they serve by the pot. I do wish it were more feasible to source ingredients from local farms, at the very least, the milk they serve alongside that coffee. The single-serve plastic cups of shelf-stable half & half don't really jibe with their philosophy. Even so, First Watch will be added to my breakfast-out rotation, for those times when I'm looking for something relatively healthy. 
First Watch
9285 Lookout Point
469-202-4287
firstwatch.com
Open 7 days
7 a.m. to 2:30 p.m.