By Sara Newberry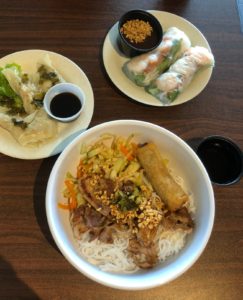 Tucked in a busy strip mall, Pho Hanabi is easy to miss. But next time you find yourself hungry and near the intersection of Northwest Highway and Lake Highlands Drive, treat yourself to a delicious Vietnamese meal. You'll be glad you did.
Walking in, the space feels somewhat cavernous, especially during off times when there's not a lot of people there. The decor is limited to wall-mounted TVs showing a rotating array of travel photos and videos; one of the series is just a selection of roads around the world. It's kind of mesmerizing.
The menu is limited — just two pages, with only about 20 items total. It's unusual for a Vietnamese place in Dallas not to have upwards of 40 options. I'm not complaining; I'd much rather go somewhere that does fewer things better than a lot of things less well.
Pho is a hard sell in triple-digit temperatures, so we stuck to cooler foods on our first visit. Spring rolls were filled with a generous amount of shrimp and noodles. Mint and basil inside were refreshing and a lovely way to cool off. Steamed dumplings were a little bland, but the soy sauce-based dipping sauce that arrived alongside solved that issue. The skins were delicate and perfectly cooked.
Vermicelli with grilled pork and egg rolls is my go-to noodle dish, and here it was as good as I've tried. The pork was tender and had those delicious crispy bits that come from a smoking hot grill, and the egg roll was crisp and not at all greasy. If I had one nitpick I'd say I wished I had more of the vegetables — lettuce, carrots, cucumber, bean sprouts — but that's really a small thing.
The flavors were right on, with the smoky pork contrasting against the egg roll's sweetness. The textures are also satisfying, with the crunchy rice paper and vegetables playing nicely with the tender noodles and pork. The dish was satisfying in every way, without feeling too heavy.
Fried rice is also a winner. It comes with a sweet-salty sauce, but it was so flavorful without it that I forgot to use it. I ordered the version with grilled chicken, half expecting the chicken to be at least a little dry. I was happy to discover that not only was it seasoned really well, it was also perfectly cooked — not dry at all. (Steamed rice is also an option.)
During our late-July cold snap (temperatures in the 90s!) I tried a bowl of the beef meatball pho. It arrived loaded with meatballs, round steak and paper-thin slices of brisket. The broth was rich and beautifully spiced with cinnamon. I look forward to enjoying it often when it really is colder outside.
Pho Hanabi is my new go-to when I need a Vietnamese food fix. It's close, it's inexpensive, and what they do, they do very well. No, the ambiance is not going to win any awards. But in my experience, that often means that the focus is in the kitchen. Isn't that really the main reason we go out to eat?
Pho Hanabi
10675 Northwest Highway #1635
214-221-0903
Open Sunday – Friday 11 a.m. 9 p.m.; closed Saturdays