By David Mullen
The biggest rebound in the life of former NBA forward Charles Smith came after his basketball career was over.
"I had some issues on career change, but the biggest obstacle was not what I was going to do, but it was the execution and how I was going to be able to perform after I played basketball," said Smith, the third overall pick in the 1988 NBA Draft (behind Danny Manning and Rik Smits) as a 6-foot 10-inch power forward out of the University of Pittsburgh, where he was Big East Player of the Year. "I had to figure out what I wanted to do, but that was just the start of it."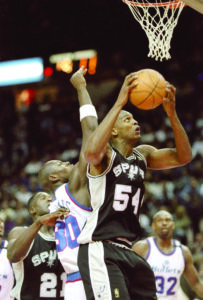 In 10 NBA seasons, Smith had all of the tools. He played for the Los Angeles Clippers, New York Knicks and San Antonio Spurs. In a career hampered by knee injuries, he averaged 5.8 rebounds and 14.4 points per game. His 1.4 blocks per game average ranks in the NBA's top one percent of all-time. Smith was a member of the 1988 U.S. Olympic basketball team — the last U.S. team made up of amateurs — which included Manning, David Robinson, Mitch Richmond and was coached by John Thompson. 
"It took me 10 years to make it to the NBA," Smith said, "and 20-plus years to be able to sit down and have others see the value that I can bring to impact their corporation. The essence of 'team' I learned was what the ingredients are to make a great team from the coaches to the players to the management. And I found that you can have one guy in the locker room that is very 'colorful' and be a little disruptive at times. But when you have two players like that, it can take a team down very slowly. It's like a cancer. 
"So, when I look back at all of the teams from high school all the way through, I understand the true essence of team," Smith said. "and what it takes to win. This is where teams go awry. Just because a player makes the most money on the team does not make him a captain. Teams get hurt when they make that person a captain and they don't have leadership abilities." 
Smith was going to go pro after his junior year at Pitt, but decided to remain and pursue his degree in liberal studies. "My degree in liberal studies helped me tremendously because I wasn't confined with some dogma of a career path that had guardrails," Smith said. 
"I had an education that was very diverse, which gave me different skill sets in different areas that I chose. That helped me move forward in the future and I didn't realize how valuable that was until later." Blessed with basketball skills, he still didn't have the tools he needed to embark in his second career. 
He was influenced by mentors along the way and some people that "God put in my life," Smith said. 
"These people impacted me at the right time in my life. All professional athletes need development. Entrepreneurship and working for a corporation are two different animals. They are so different. I need people to understand that there are two different mind sets, two different paths and two vastly different disciplines to do either or."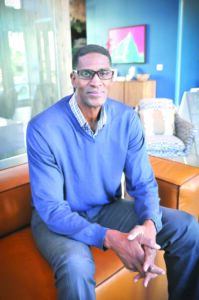 Before choosing the corporate road, Smith was a successful entrepreneur in sports, marketing and technology. Upon moving to corporate, Smith became a Certified Master Facilitator for global leadership development and training company Fierce Conversations, Inc. in New York (fierceinc.com). Their client roster includes brands like Apple, T. Rowe Price, Coca Cola, HBO and Turner Broadcasting. 
At Fierce, Smith drives specially-designed training programs that not only help athletes better transition into corporate America, but also help businesses understand and leverage pro-sports team mentalities and teamwork.
"By Harvard Business Review, 73 percent of managers don't trust their directors," Smith said. "What does that tell you? If you can't talk about progression, confrontation, racism, culture, all these things, you have a toxic environment. You don't have a team concept.      
"A lot of companies don't have the hard conversations. If you don't have hard conversations, you are destined for negative results. That is in personal life and business life. If you do have the hard conversations, it enables you to have a positive impact. When these corporations don't have these hard conversations from reports, directors, staff, employees, janitors, it doesn't matter whom, it impacts your culture negatively."
When Smith talks about hard conversations, he goes back to his playing days and thinks about all of the conversations he did not have with his coaches Larry Brown, Pat Riley and Gregg Popovich or teammates like Manning, Robinson and Patrick Ewing. 
"At the end of the day in sports," Smith said, "effective communications is the difference between wins and losses. If you go back to every championship team, you'll find that the communication between coaches and players and the players themselves was on point." He looks back on his 1994 Knicks team and "it makes my brain swell," Smith said. The Knicks lost the NBA finals 4-3 to the Houston Rockets.
"If I had the tools and the knowledge to have those hard conversations throughout my career, my relationships today would be a lot stronger with a lot of people I was in contact with, but I didn't have the tools. I had my head in the sand and avoided it. 
"The team concept in corporate — and I hear CEOs, other C-level executives and directors — talk about team and I sit there and don't say anything," Smith said. "They do not know the true essence of team. My ability to communicate and understand the verbiage of corporate and on the terms of sports and understand and discuss them both through my experiences puts me in a very unique position to talk about team. A lot of corporations don't understand the concept of team, and they should, and they should be able to build a dynasty like sports organizations do. But corporations don't know how and there is no accountability. That's when I come in and talk 'team.'" 
It took years after basketball for Smith to become a team leader. "I was my toughest challenge, and it had nothing to do with anybody else," Smith concluded. "I was fighting myself. Everything that I learned to be a professional basketball player, I took 15, maybe 20, percent of that for what I needed when I retired. I was my biggest challenge and I dealt with me for 20-plus years. And after 55 years, I finally get it." And now Smith is using his new found team principles to help corporations rebound.