By Spencer Shelton
Scoot on over to the Fair Park Coliseum and State Fair of Texas Livestock Judging Pavilion to enjoy the lineup of free pre-Fair horse shows every weekend through Sept. 7. This year's lineup offers a series of horse shows featuring teams and riders from all over the nation. Located in the Fair Park Coliseum and the Livestock Judging Pavilion, the series is a family favorite. With the exception of the State Fair of Texas Rodeo, all horse shows are free to the public and offer fun entertainment for the entire family!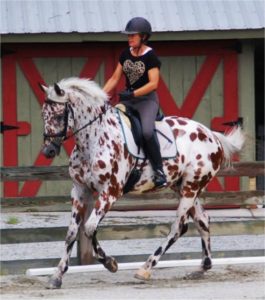 The remaining 2019 pre-Fair horse shows are:
Appaloosa Show: 
Sept. 6-8
Location: Fair Park Coliseum 
Starting time: Fri. 9 a.m., Sat. 9 a.m., Sun. 9 a.m.
Known for its unique and spotted pattern, the Appaloosa is an American horse used in a variety of equestrian events, including western pleasure, games and as working cow horses. This show consists of a series of different events, including jumping, cattle and ranch classes where groups of horses with similar training or characteristics compete against each other. 
Donkey and Mule Show: Saturday, Sept. 7
Location: Livestock Judging Pavilion in Fair Park
Starting time: 9 a.m.
The horses' larger-eared "cousins," the donkey and mule, must compete in a multitude of events including hunt seat equitation, obstacle driving, pleasure driving, timed driving, course driving, western pleasure, horsemanship, reining, trail, barrel racing, stake race, scramble, and physical appearance. 
For more information regarding the 2019 pre-Fair horse shows and State Fair of Texas livestock events, visit BigTex.com/Livestock-Shows. All times and locations are subject to change. Ending times will depend on number of exhibitors entered in each show.