By David Mullen
The Pickle Ball craze is everywhere. To the credit of the rapidly growing game, it is simple to play. Just find a tennis court that hasn't grown up yet, a couple of paddles and a plastic ball with holes in it.

While Pickle Ball has become uber trendy, a game featuring a plastic ball with holes has been played and loved by children and adults alike for nearly 70 years without pretense. It's America's Game: WIFFLE Ball. 
The magic of the game resides in the WIFFLE Ball itself. It curves and can go anywhere. Being plastic, a hit batter gets a base, not a bruise. Accomplished WIFFLE Ball pitchers can command the direction, or so they say.
"Anybody can throw a curve ball with it. That evens the playing field for a lot of people," said Stephen Mullany, third generation owner (with brother David) of The Wiffle Ball, Inc. (wiffle.com). "You get grandparents out there playing with grandkids. It allows everyone to be competitive."
All one needs to do is set up a strike zone. Chalk or masking tape can make a reasonable square to aim for. The ball is hit — or missed — with a skinny, plastic bat. A broomstick can be used in a pinch. 
"I throw a curve ball differently than my brother does. I hold the ball with the holes on one side and my brother holds it with the holes on the other side," said Mullany, 55, and still an avid WIFFLE Ball player. "How it gets released out of your hand, I guess, is how the ball curves. It is different for each person." 
The ball also moves according to the release point. In WIFFLE Ball, you can ape the throwing style of your favorite pitcher, whether it is over-the-top Nolan Ryan, Clayton Kershaw's 3/4 delivery, Dennis Eckersley's sidearm or Dan Quisenberry's submarine (underhanded) motion.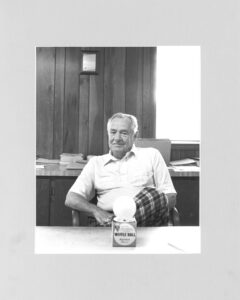 "My grandfather and father came up with the idea. My grandfather started the company back in 1953," Mullany said. The ball grew out of necessity. 
David Mullany (Stephen's grandfather) was watching his son David, Jr. (Stephen's father) and a friend play a game in their backyard in Fairfield, Conn., using a perforated plastic golf ball and a broomstick handle. After days of trying to throw curves and sliders with the golf ball, 12-year-old Junior told Senior that his arm felt "like jelly." David had been a semi-pro pitcher, knew that throwing curveballs was not good for a young arm and went to work.
He picked up some ball-shaped plastic parts from a nearby factory, cut various designs into them and tested them. Both Senior and Junior Mullany agreed that the ball with eight oblong perforations worked best and the WIFFLE Ball was born.
The official licensed and trademarked WIFFLE Ball is manufactured by the Mullany's company in Shelton, Conn. "In the millions," Mullany said of the number WIFFLE balls produced at the facility. "We don't provide proprietary information." When you own the WIFFLE trademark, it's OK to keep secrets. 
The bats are a blow-molded plastic, "like a water bottle," Mullany said, so another company makes them and ships them to WIFFLE. The ball and bat sets are assembled by WIFFLE and available at sporting goods retailers and on amazon.com. DICK'S Sporting Goods has the regulation 9" WIFFLE Ball and 32" classic yellow plastic WIFFLE Bat for $8.99.
DICK'S also has two Pickle paddles, two balls and a net for $59.99. A jarring price for a Pickle Ball set. While the plastic Pickle ball has holes, it is not used for America's Game. "It's definitely not our ball," Mullany said emphatically.
Pickle Ball is allegedly dubbed after a ball-retrieving Cockapoo named "Pickles." WIFFLE is named after a "whiff," which is a common nickname for a strikeout. Compared to the satisfying and economical game of WIFFLE Ball, Pickle Ball is for the elites. WIFFLE Ball is for the streets. Or driveway. Or backyard. Or a field in Frisco.
"We play with a blend of the classic rules," said Jack Hoving, head commissioner of the Frisco based Texas Wiffle Ball League, a collection of DFW teams that play competitive WIFFLE Ball. "It's funny that you mention Pickle Ball, because WIFFLE Ball is blowing up, too."
There are a number of ways to play WIFFLE Ball, depending on the number of players. The main objective is to strike out the opponent. Batted balls can be caught if there are enough players. Distance traveled by a batted ball can determine the number of bases. Sometimes players run. Most times they don't. That is the beauty of WIFFLE Ball. It is a traditional game without a traditional set of rules.
Hoving has taken WIFFLE Ball to a new level. On the Texas Wiffle Ball League website at (texaswiffleball.com), not only are team records kept, but comprehensive pitching and batting statistics like WHIP (walks and hits per innings pitched) and OPS (on-base plus slugging) are logged.
"We have gone from a no speed limit to a speed limit this year," Hoving said. "We now play with a 60 mile per hour speed limit. We invested in some radar [guns] to enforce that." Pitchers were throwing a WIFFLE Ball up to 100 mph from 48 feet. "In years prior, we had no speed limit. It was just getting too ridiculous, and guys were getting way too good. I don't care what you do, but I don't think MLB players could hit a 100 mile per hour WIFFLE Ball that moves like that. "I kid you not, there were two or three games last year where a pitcher would throw a no-hitter, and a pitcher would throw a perfect game, and the pitcher that threw the no-hitter would get the loss." The change to speed limit WIFFLE Ball has appealed to more players. "We have players from 16 to 60 in our league," Hoving said. The average five-inning game now has about 20 runs.
As if any more evidence in needed to affirm its significance in American sports history, in 2017, the WIFFLE Ball was inducted into the National Toy Hall of Fame in Rochester, N.Y. based on four main criteria: icon-status, longevity, discovery and innovation. 
When I was a kid, we played WIFFLE Ball in our backyard. Neighbor Frank's garage and our garage were considered foul territory. All hits were singles, unless you hit it into the willow tree, which allowed you to circle the imaginary bases like Reggie Jackson. 
My dad and my neighbors were particularly fond of WIFFLE Ball. Not because they played the game with us. The WIFFLE Ball didn't break any windows. But a "whiff" in WIFFLE Ball could break your heart. As far as pickles were concerned, we ate them on sandwiches.