By Stephan Sardone
In the summertime, you want the kids out of the house as much as possible. They should be taking advantage of the great outdoors.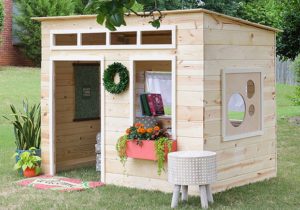 But the reality of the weather in Texas means they need protection and motivation. Aside from hats and sunscreen, a playhouse provides cover and gets the kids out of the house.
They also promote sociability. Imagine your children getting their buried heads from the cellphone or video game console and playing with their family and friends. It can still happen. A backyard playhouse is a great excuse to get outside.
In these PC days, you may want to build a playhouse that is gender neutral. But I have two daughters, and they would like their playhouse built to be a bit more feminine. They are fortunate to have a father who is a professional, licensed contractor. Anything I build for them will fit into their piggy bank budget.  
Gender priorities also run in boys. It is highly unlikely that they would ask for frilly curtains. They are looking for rugged. Both styles are easy to accommodate.
Your first impression of a playhouse is a small house with a peaked roof, a front door and windows. This does not need to be the case. Playhouses can have small patios, peepholes versus standard window openings and curtains, beads or swinging doors at the entrance. Imagine a playhouse that looks like an old western saloon or a fairy tale cottage. The styles are endless.
One place to start is a place you may not have considered. Instead of throwing out an old piece of furniture like a dresser or bookcase, repurpose it for the inside of the playhouse. This saves time and money, even if it needs to be refinished.
By the way, we are talking playhouse here, not tree house. That gives you unlimited potential. It can be easily moved as you change the look of your backyard. Also, you don't need a tree, which adds ease to the building process and safety to the house. No need to climb ladders or ropes, which could cause injury to your youngster.
And let's get this out of the way. If you are not an accomplished craftsman or craftswoman, you can buy a pre-made playhouse at most local hardware stores or big-box home improvement center. You are not selling out if you just buy a shell and then add your own magic to the house.   
You can easily find plans for building a playhouse online. Most materials are low cost. Wood (plywood works), shingles, fasteners (nails and screws) and a quality saw is basically all you need. But don't scrimp; you will want this playhouse to last for years. 
And the simpler the initial plan, the easier it is to adapt as kids get older or the family grows. Make sure that the playhouse works with the look of the house. Have a Victorian? Build a Victorian style playhouse. Live in a sleek, modern home? Go sleek and modern. Either way, they can be tailored to your children's wants and needs.
A couple of other considerations: Provide maximum light. Make sure that there is enough room inside so that the playhouse doesn't become a sauna. Consider using recycled materials like pallets or old doors. And use bright colors. Kids will be even more attracted to their outside home.
A playhouse can stimulate imagination and sociability. It also kicks the kids out of the main house to play in their own house.