By Jennifer Collins
Resource Center's Young Professionals Advisory Council (YPAC) raised $40,678 at their 5th annual Back-to-School Fundraiser, surpassing last year's total by more than $5,000. Presented by Dallas Red Foundation, the event was held at Craighead Green Gallery on August 22 and benefited the Center's Youth First program.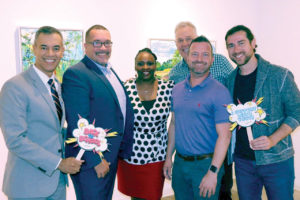 More than 100 guests mixed, mingled and viewed works of art while listening to hot tunes by DJ ELLZ. Event co-chairs Lacey Brutschy and Michael Buss expressed their thanks and gratitude for event sponsors and guests who helped to make the fundraiser successful for North Texas' lesbian, gay, bisexual, transgender and queer/questioning (LGBTQ) youth. Approximately 15,000 LGBTQ youth live in North Texas, yet there are minimal resources available to meet their unique needs. 
Youth First is the only local LGBTQ-focused youth program that addresses the challenges LGBTQ teens face with family members, peers and fellow students. Serving youth ages 12-18, Youth First equips them with the skills and resources they need to lead an open life.
YPAC is a unique giving circle for young professionals (45 and under) who are passionate about supporting the emotional needs, life skills and educational advancement of Dallas area LGBTQ youth. All funds raised by the membership of YPAC solely benefit Youth First programming at the Center. For membership information contact Dean S. Wilson at dwilson@myresourcecenter.org or call 214-540-4424.