By Anandini Ploktin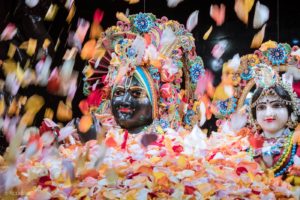 Radha Kalachandji Hare Krishna Temple will celebrate 2019 with a kirtan music festival. The four-day Kirtan festival will feature internationally-renowned kirtan singers and local kirtan artists as well. Prayers, meditation, classes, concerts and meals fill 70 consecutive hours of celebration. "This age is characterized by short attention spans, shorter memory and a shorter temper so a very simple form of meditation is given," says Nityananda Chandra Granger, a minister at the Temple.
Kirtan transcends all barriers and differences. Kirtan is devotional worship of God through music and congregational singing of the Holy Names. It is accompanied by classical Indian and acoustic western instruments.
The festival begins Friday, Dec. 28 at 7 p.m. and ends Tuesday, Jan. 1, 2019 at 2 p.m. On New Year's Day, there will be a flower festival. Professional musicians, singers and spiritual teachers come from all throughout the world including Hong Kong, the Philippines and India are attending the annual celebration. Headlining this year's festival are B.B. Govinda Swami, Bada Haridas and Gaura Vani. 
B.B. Govinda Swami combines modern sounds with soulful melodies creating an ecstatic and lively Kirtan. According to B.B. Govinda Swami, the soul is the source of all music. Bada Haridas artistically blends his many influences such as jazz, classical music and traditional Indian music creating an unparalleled kirtan in celebration of the divine. There is a depth to Bada Haridas' music and quality of singing that is simply captivating. Gaura Vani as a child left the U.S. to study kirtan in India. There he learned how to sing kirtan and play various traditional Indian instruments. More than 30 years later he continues to share the magic he received and performs extensively throughout the world.
Kalachandji's Restaruant will be closed in order to cater the festival. Multimeal passes start at $39.99. Hotel packages also available. Ages 5 and under are free. For more information or to register, visit kirtan50.com.