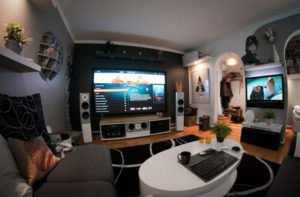 By Stephan Sardone
Ideally, you will be receiving a tax refund or some other windfall to allow you to make some home improvements in your home entertainment room. The NCAA tournament is about to begin, Major League Baseball starts soon, and the NBA and NHL playoffs are right around the corner. 
A friend of mine is such a technology junkie that he can't sleep at night if all of the clocks in his home are not perfectly in sync. Well, you don't have to be that anal-retentive to be able to replace or upgrade your in-home technology. Although, you may want to consult a licensed professional, many of these projects you can do yourself.
Theater rooms are not just for movies anymore. The technology is ever-changing. Prices are down, and you won't want to miss out on some easy upgrades. We are not talking about Betamax or laser disk players here. Below are some hot trends.
Multiple screens. Can you imagine watching all four first round NCAA tournament games at the same time? You still need a dedicated wall, but you can build a media center that includes multiple flat-panel, wall-mounted TVs. And with a video matrix switch, you will be able to watch different channels from each TV, making your home theater the ultimate spot for sports-viewing and more.
You can still use your projection screen for movies. Just roll the screen down and watch films as you are accustomed to. 
Streaming. You may have already or are considering "cutting the cord." In addition to watching your favorite movies and documentaries on a DVD or Blu-ray player, a streaming service allows you to watch programming in 4K, providing higher resolution.
Media-streaming devices such as Apple TV, Roku and Amazon Fire can connect to your A/V receiver or matrix switch, and you will have a much wider selection of programming. You can also watch YouTube and Netflix content in a theater environment. There are also several units on the market that allow you to process 13.2 channel programming. As a comparison, laser disk technology offered just two channel audio capabilities. 
A sound investment. Great sound is crucial. No matter the size of your room, you can create a concert hall environment. 
Bluetooth speakers are all the rage. They require little set up and again allow you to access streaming channels. The new technology has improved the performance of Bluetooth speakers, providing high levels of performance and sound quality. 
And if so inclined, you can attach an electronic piano or organ to your system. You might not be Van Cliburn, but Carnegie Hall could still be in your future. You can always dream.
Surfing U.S.A. It is hard to believe that social media outlets and the internet are now being incorporated into many home theater systems. In a recent Twitter survey, 72 percent of those with upgraded home entertainment systems blend social media platforms into their TV-viewing experience. You may even be able to keep track of your rambunctious teenagers.
Voice integration. Alexa and Siri love to watch TV and movies, too. A simple command can provide you content and music. It can also adjust your lighting for viewing. 
So, if you're planning to make some home entertainment updates, consider these ideas. And think of the money you will save by avoiding the neighborhood sports bar and those soggy chicken wings.