By Juliette Coulter
In the spirit of giving, Texas Women's Foundation (formerly Dallas Women's Foundation) announced its community grants totaling $635,500 to 24 organizations that work to improve the lives of women and girls in North Texas.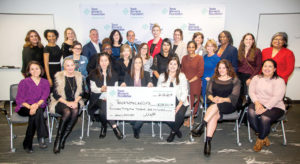 North Texas community grants represent about 10 percent of the foundation's overall $6.3 million investment in 2019 in research, advocacy, programs and grants to advance opportunities for Texas women and girls.
The foundation's community grants are a competitive grants process, in which the Foundation's volunteers and staff conduct financial reviews, site visits and program reviews to select and fund, with board approval, the most effective solutions to help women and girls. 
Grants are distributed through the foundation's operating funds raised from a broad base of donors, complemented by funds from cooperative granting partners, such as Commercial Real Estate Women (CREW) and various foundation donor advised funds.  
Roslyn Dawson Thompson, Texas Women's Foundation president and CEO, said, "During this North Texas community grant cycle, we expanded our geographic area to include Tarrant County. Through these partnerships, we are strengthening women and girls in the areas of education, housing, leadership and workforce development, and as a result, our entire community becomes stronger." 
For more information or to donate today, visit txwf.org.