By Ariana Hajibashi
Each Year, the Lowest Greenville Collective hosts a Fall Festival, which is an opportunity for area residents to hang out, support their local businesses and enjoy a fun-filled day of food, drinks and music. On Oct. 26, everyone is invited out to do exactly that, but this year's festival will be extra special, as it will also feature trick-or-treating for the kids.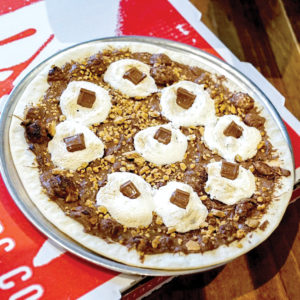 The festivities begin at 11 a.m., when businesses will start handing out candy and a gratis S'mores pizza that's topped with Nutella, Marshmallow Fluff dollops, Graham Cracker sprinkle and Hershey bars from Greenville Avenue Pizza Company!
Attendees can secure their entry by purchasing a commemorative Lower Greenville Collective glass for $15 starting at 11 a.m. That's your ticket to enjoying an assortment of delicious food and drinks, including beer, wine and cocktail samples. There will also be plenty of other fun activities from the diverse group of businesses lining the street, like pop-up shops featuring jewelry, art and leather goods, as well as photo opps and a face painter for the kids.
Participating businesses include:
• The Libertine
• Rapscallion
• Truck Yard
• Four Day Weekend
• Creamistry
• Joy Macaroons
• Greenville Avenue Pizza Company 
• Alamo Club
• Bullzerk
• Gallo Nero
• Pet Supplies Plus
• Leela's
• Feed Company
• HG Sply Co
• Gung Ho
• Laurel Tavern
• Tacos Mariachi
• Ragin' Crab
• Company Café
• Single Wide
• Sam's Club Now
• Kathy Fielder Design
• Alexan Lower Greenville
It's sure to be a good time and a great way to interact with friends, neighborhoods and local businesses. So, bring the whole family, and stroll along Lowest Greenville on Saturday, Oct. 26 to support Dallas's most vibrant neighborhood.