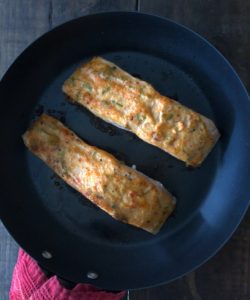 4 (6-ounce) salmon filets
1 cup mayonnaise
3 tablespoons harissa
Salt and pepper 
Heat oven to 400F. Line a baking pan with parchment. 
Season salmon filets with salt and pepper and place skin side down on the prepared baking sheet. 
In a small bowl, stir together the mayonnaise and harissa. Season with salt and pepper and spread mixture evenly on the top and sides of each filet. Bake until glaze is set, and salmon is cooked through (it should feel like a marshmallow when the sides are lightly squeezed). Serve right away.