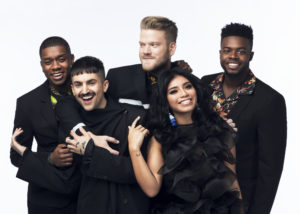 By Max Black 
Pentatonix, an accapella group from Arlington, TX, has sold nearly 10 million albums worldwide and performed for hundreds of thousands of fans at their sold-out shows across the globe. Their YouTube channel boasts more than 15 million subscribers, yielding more than 3.3 billion video views.
Most recently, Pentatonix released the first collection in the group's PTX Presents series, PTX PRESENTS: TOP POP VOL. 1, which features 11 PTX-curated modern pop performances. On the heels of their album release, Pentatonix will be embarking on a 39-city North American tour in July, returning to Dallas next week on Thursday, July 26. I had the pleasure of interviewing Mitch Grassi (pictured above, second from left), who grew up in Arlington.
What was the most intense part of your journey as a group from The Sing-Off to now?
I think it was putting the group first, and forgetting egos. We've really had to train ourselves to make sure that every choice we make as a group, we make primarily for the betterment of the group. Being in a band can be tough if not everybody is all on the same page.
You've collaborated with many people, including Dolly Parton and even K-pop star Amber Liu. Of the people you've collaborated with, who was the most memorable?
Most definitely Dolly! For being such a legendary superstar, she was incredibly humble, grateful and detail-oriented. Truly a joy to work with, and possibly the sweetest human we've ever met.
Many fans do song and dance covers to your songs and covers. Do you find yourself watching them in your free time?
Absolutely! It makes us so happy when we see fans put together their own acappella groups because they were inspired by us. That makes my heart sing!
What is your favorite memory from when you first formed the group back in high school?
We got to perform our cover of "Telephone" at our choir's spring concert, and that really was a moment I'll never forget.
With three Grammys and six studio albums, what do you hold the most pride in?
I'm just so proud of us because we're always striving to get better. We are never comfortable, and I think that is the key to success.
You've worked with charities such as Red Cross in the past. Is there a charity you'd be interested in working with in the future?
I'd love to get involved with more LGBTQ+ organizations. It's so important to show our support, especially in divisive times like these.
Your music has inspired and changed the lives of so many people; who (or what) would you say has had that type of impact in your life?
It's difficult to choose one specific inspiration. But musically, Imogen Heap. She's inspired maybe 90 percent of my vocal nuances and tastes. I love anything that sounds like her style of music (even though it is very unique).
I saw you live back in 2012 in Arlington. Can you tell us what difference you've seen in the audience since then?
The audiences are most definitely bigger, haha! There's also SO much more diversity in the crowds, and I mean that in every sense of the word. I think that's a really beautiful thing, that our music can bring so many different types of people together.
You're originally from Texas. What are you the most home sick for when you're away?
I miss the change in season, honestly. Los Angeles is great and I'm so happy I live there, but there's something so peaceful and comforting about Texas. I love how vast and spacious it is.
Finally, if you could say one thing to artists trying to write their own music and perform like you, what would it be?
Just start taking action. Even if you aren't 100 percent pleased with what you're creating, KEEP GOING. The more you work at something, the better you'll get. And find what sets you apart from other musicians and run with it. Always play to your strengths. Most importantly, DON'T compare yourself to others! You're on your own path.
Pentatonix performs live at the Dos Equis Pavilion in Dallas on July 26 at 8 p.m. Tickets are available at Ticketmaster.com or by calling 800-745-3000.